Spiffy Gifts, Old and New
Happy Holidays readers. You are synthesizers of culture, voices of reason and creative vectors. Let your civility and wisdom envelope your community. We are mirrors and lenses. Human experience is vast. Position the facets of reading correctly and cast joyous prisms of light.
I love old books and I am thrilled by new releases. I value inexpensive books and I am enchanted by rarities, finely made books and fetishistic augmentations. I delight at modern evolutions in physical bookmaking as writers and publishers consider and explore the object of the book, the array of possibilities and how its story is supported and augmented by proper design and choices. I move through our bookstore in a kind of fugue, stupefied by the portent of this mass of books awaiting activation by a human mind, mine or yours.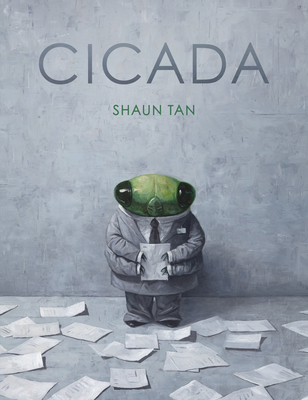 I hardly know how to write about Shaun Tan's juvenile picture book Cicada. It's simple and stark and my grasping surprises me. Is it book about racism and class? Is this book about the callous soul of capitalism? Or is it a story of liberation? I cannot quit thinking about this beautiful and haunting book. You really have to see it. I am sorry and you're welcome. $19.99
I enjoy the Seek & Find books by b.b. Cronin, all myself. His 2016 book The Lost House transported me back to early childhood. His 2019 title, The Lost Cousins is very exciting too. Page after page Cronin's illustrations and surprising colors will make you smile. $19.99
Four decades of Nobel Prize winning, late and beloved Toni Morrison's musical and insightful thoughts and writings are shared in this wonderful collection, The Source of Self-Regard: Selected Essays, Speeches and Meditations. Hardcover from Knopf for $28.95. Watch also for her Measure of Our Lives: A Gathering of Wisdom which Knopf will release in December.
Don Quixote by Miguel de Cervantes is generally cited as the first novel. The first part was published in Spain in 1605 and concluded with a second part in 1615. The handsome copy we offer was published by London's Folio Society in commemoration of the 400th anniversary of the first appearance of Don Quixote. It is bound in full orange-brown leather with pictorial décor in black and gilt. It's playfully illustrated by Quentin Blake whose work you likely remember from books by Roald Dahl. One of 1250 copies in a red cloth clamshell box. $600
I grow increasingly fond of the Harper Perennial series'. I am presently excited by their Perennial Olive Editions of classic Mysteries, with dramatic and chilling black, red and white covers. These delightful $10 limited editions are a one-time offering from Harper. "Crime was too easy in a place like this." If you like one, you will want three or maybe all eight. The series includes: The Blessing Way by Tony Hillerman, Death at La Fenice by Donna Leon, Gaudy Night by Dorothy L. Sayers, The Mapping of Love and Death by Jacqueline Winspear.
Alfred Lambourne was an artist and writer, best remembered for his works about the Great Salt Lake. Plet: A Christmas Tale was published in Boston in 1895. Most copies were bound in cloth but here is a fancy edition in ¾ brown leather with marbled paper-covered boards. It is in very good condition but for a small tear in the bottom of its rear joint. $200
The writings of Swedish scientist come mystic Emanuel Swedenborg (1688-1772) continue to fascinate and influence readers. He published broadly in scientific fields early in life but his later theological works form the foundation of his influence. In satisfying sturdy uniform purple cloth we offer high quality modern editions from The Swedenborg Foundation:
Heaven and Hell $40
The Secrets of Heaven: Genesis 1-15 in two volumes $15
True Christianity in two volumes $50
Emanuel Swedenborg: Essays for the New Century Edition on His Life, Work, and Impact with articles by numerous Swedenborgian scholars $75
Edmund Dulac (1882-1953) was one of the most beloved illustrators of his era. In 1922, Dent published an unusual item bearing his name and introduction. Christmas Pictures by Children contains 14 full color images made by children between the ages of six and 16 under the tutelage of Professor Franz Cižek, founder of the Child Art Movement in Vienna. Beautiful work. Hinges are soft and the paper on the binding is yellowed. Uncommon. $300
1st edition, first printing of L. Frank Baum's 1902 Life and Adventures of Santa Claus. Elaborate pictorial red cloth. Soiled binding, weak hinges, and authentic contemporary fingerprints. A charming book. $175
True: The Man's Magazine published from 1937 until 1974. In February 1961 the 25th Anniversary Issue, was delivered in a metallic silver heavy cardstock folding box. Among other contributors, the issue boasts work by Ernest Hemingway, Aldous Huxley and John Dos Passos. $40
Dissent Pins
Creator Nick Jehlen & illustrator Caitlin Kuhwald collaborate to create these beautiful, action-oriented pieces in an effort to help organizations doing important work receive the resources they need. 50% of all proceeds earned by Dissent Pins go to organizations fighting to keep democracy alive, such as The International Refugee Assistance Project, Sister Song: Women of Color in Reproductive Rights, ChickTech, and Planned Parenthood. $12
Lit Candles
These hand-poured soy wax candles were inspired by love for books and the environments they inhabit. Each is an enticing blend of scents based on well loved books, authors, and literary environments. $14
Explore the Wasatch Range through the 3D glasses supplied with Steven L. and Benjamin M. Richardson's Wasatch 3D Atlas. Let these magical birds-eye views entice and orient you from the comfort of home. $24.95