2017 Bestselling Kids Books
Can't leave the kids' books out of the bestseller fun! 2017 gave us some excellent kids books to sell.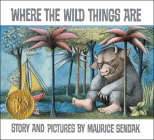 $8.95
ISBN: 9780064431781
Availability: Not in Stock... Available to ship in 3-5 days​
Published: HarperCollins - December 26th, 2012
Maurice Sendak's Caldecott Medal-winning picture book has become one of the most highly acclaimed and best-loved children's books of all time. A must for every child's bookshelf.
---

$17.95
ISBN: 9781616205676
Availability: Not in Stock... Available to ship in 3-5 days​
Published: Algonquin Young Readers - August 9th, 2016
Winner of the 2017 Newbery Medal
The New York Times Bestseller

An Entertainment Weekly Best Middle Grade Book of 2016
A New York Public Library Best Book of 2016
A Chicago Public Library Best Book of 2016
An Amazon Top 20 Best Book of 2016
A Publishers Weekly Best Book of 2016
A School Library Journal Best Boo

---

$5.99

ISBN: 9781465445612

Availability: On Our Shelves Now

Published: DK Children - January 19th, 2016

Pocket Genius: Dinosaurs profiles more than 140 prehistoric animals and features fossils, skeletons, anatomy, and history as well as species including dinosaurs on land, winged pterosaurs in the sky, and a range of sea monsters in the ocean.

---

$16.99

ISBN: 9780375869020

Availability: Not in Stock... Available to ship in 3-5 days​

Published: Knopf Books for Young Readers - February 14th, 2012

#1 NEW YORK TIMES BESTSELLER • Millions of people have fallen in love with Auggie Pullman, an ordinary boy with an extraordinary face—who shows us that kindness brings us together no matter how far apart we are. Read the book that inspired the Choose Kind movement, a major motion picture, and the critically acclaimed graphic n

---

$17.99

ISBN: 9780525425892

Availability: Not in Stock... Available to ship in 3-5 days​

Published: Dutton Books for Young Readers - February 14th, 2017

Winner of the 2018 Michael L. Printz Award — An achingly beautiful novel about grief and the enduring power of friendship.

"Short, poetic and gorgeously written." —The New York Times Book Review

"A beautiful, devastating piece of art." —Bookpage


---

$16.99

ISBN: 9781452150130

Availability: Not in Stock... Available to ship in 3-5 days​

Published: Chronicle Books - August 30th, 2016

They All Saw A Cat by Brendan Wenzel - New York Times bestseller and 2017 Caldecott Medal and Honor Book

"An ingenious idea, gorgeously realized." -Shelf Awareness, starred review
"Both simple and ingenious in concept, Wenzel's book feels like a game changer." -The Huffington Post


---

$14.99

ISBN: 9781442408937

Availability: Not in Stock... Available to ship in 3-5 days​

Published: Simon & Schuster Books for Young Readers - April 1st, 2014

This Printz Honor Book is a "tender, honest exploration of identity" (Publishers Weekly) that distills lyrical truths about family and friendship.

Aristotle is an angry teen with a brother in prison. Dante is a know-it-all who has an unusual way of looking at the world. When the two meet at the swimming pool, they seem to have nothing in common.

---

$6.99

ISBN: 9780763678883

Availability: On Our Shelves Now

Published: Candlewick - April 14th, 2015

Who says princesses don't wear black? When trouble raises its blue monster head, Princess Magnolia ditches her flouncy dresses and becomes the Princess in Black!


---

$16.99

ISBN: 9781423190875

Availability: On Our Shelves Now

Published: Hyperion Books for Children - April 1st, 2014

The Pigeon really needs a bath! Except, the Pigeon's not so sure about that. Besides, he took a bath last month! Maybe. It's going to take some serious convincing to try and get the Pigeon to take the plunge.

---

$17.99

ISBN: 9780062434593

Availability: On Our Shelves Now

Published: Balzer + Bray - April 4th, 2017

"A story that broke my heart and put it back together again. You won't want to let Gem and Dixie go." —Sarah Dessen, New York Times bestselling author of Saint Anything

---