August 2018 Kids
Kids' books bestsellers were helped by a wonderful back to school display.

$17.99
ISBN: 9780451471956
Availability: On Our Shelves Now
Published: Viking Books for Young Readers - October 2nd, 2014
A contemporary classic celebrates its 25th birthday.

Twenty-five years in the Big House and A. Wolf is still sticking to his story: he was framed! As for that huffing and puffing stuff? A big lie. A. Wolf was just trying to borrow a cup of sugar to make his poor old granny a birthday cake.

Who should you believe, the pigs or the wolf? You read. You decide.

---

$4.99
ISBN: 9781465445902
Availability: On Our Shelves Now
Published: DK Children - January 19th, 2016
Profiling nearly 200 types of rocks and minerals from volcanic rocks and granite to sparkling diamonds and explosive sulfur, Pocket Genius: Rocks and Minerals digs deep beneath the surface, informing young readers what each rock is made of, how they are formed and what they are used for, how to be a rock collector, and how to identify rocks and minerals.
---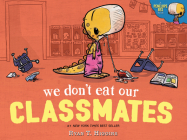 $17.99
ISBN: 9781368003551
Availability: Not in Stock... Available to ship in 3-5 days​
Published: Disney-Hyperion - June 19th, 2018
It's the first day of school for Penelope Rex, and she can't wait to meet her classmates. But it's hard to make human friends when they're so darn delicious! That is, until Penelope gets a taste of her own medicine and finds she may not be at the top of the food chain after all. . .

---

$4.99

ISBN: 9780448456942

Availability: Not in Stock... Available to ship in 3-5 days​

Published: Grosset & Dunlap - March 31st, 2011

Soon to be a major motion picture!


---

$18.99

ISBN: 9781250170972

Availability: Not in Stock... Available to ship in 3-5 days​

Published: Henry Holt and Co. (BYR) - March 6th, 2018

Instant New York Times Bestseller
New York Times Notable Children's Books of 2018
TIME Top 10 Best YA and Children's Books of 2018
NPR's Book Concierge 2018 Great Reads List
Buzzfeed's 24 Best YA Books of 2018
Bustle's Top 25 Best Young Adults Books of 2018
2018 Kirkus Prize Finalist

---

$8.99

ISBN: 9780440412670

Availability: Not in Stock... Available to ship in 3-5 days​

Published: Yearling - September 1996

Where the Red Fern Grows is a beloved classic that captures the powerful bond between man and man's best friend. This edition also includes a special note to readers from Newbery Medal winner and Printz Honor winner Clare Vanderpool.
 

---

$8.99

ISBN: 9780140564341

Availability: Not in Stock... Available to ship in 3-5 days​

Published: Puffin Books - February 1999

"Robert McCloskey's unusual and stunning pictures have long been a delight for their fun as well as their spirit of place."—The Horn Book


---

$9.99

ISBN: 9780394800165

Availability: Not in Stock... Available to ship in 3-5 days​

Published: Random House Books for Young Readers - August 12th, 1960

This Dr. Seuss classic starring Sam-I-Am will have readers of all ages craving Green Eggs and Ham!
 
And don't miss the new series adaption of Green Eggs and Ham coming soon to Netflix – featuring the voice talents of Michael Douglas, Diane Keaton, Daveed Diggs, and more!

---

$3.99

ISBN: 9780394856407

Availability: On Our Shelves Now

Published: Random House Books for Young Readers - September 12th, 1983

This classic Berenstain Bears story is a perfect way to teach children about the importance of honesty!


---

$4.99

ISBN: 9780448425009

Availability: Not in Stock... Available to ship in 3-5 days​

Published: Grosset & Dunlap - July 9th, 2001

'Twas the night before kindergarten,
and as they prepared,
kids were excited,
and a little bit scared.


---