Burning Chrome (Paperback)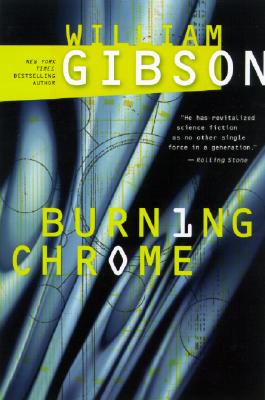 Description
---
"A breath of fresh air . . . the vision is deeply imagined, very complete and controlled . . . Gibson is truly brilliant."—Washington Times magazine
From a true master of science fiction comes a collection of short stories that show how, no matter the length, Gibson is one of the greatest writers working today.
Known for his seminal science fiction novel Neuromancer, and for the acclaimed books Pattern Recognition, The Peripheral, and Agency, William Gibson is actually best when writing short fiction. Tautly written and suspenseful, Burning Chrome collects 10 short stories, including some written with Bruce Sterling, John Shirley, and Michael Swanwick, and with a preface from Bruce Sterling, now available for the first time in trade paperback. These brilliant, high-resolution stories show Gibson's characters and intensely realized worlds at their absolute best, from the chip-enhanced couriers of "Johnny Mnemonic" to the street-tech melancholy of "Burning Chrome."
About the Author
---
William Gibson's first novel, Neuromancer, won the Hugo Award, the Philip K. Dick Memorial Award, and the Nebula Award in 1984. He is credited with having coined the term "cyberspace," and having envisioned both the Internet and virtual reality before either existed. His other novels include All Tomorrow's Parties, Idoru, Virtual Light, Mona Lisa Overdrive, and Count Zero. He lives in Vancouver, British Columbia with his wife and two children.