Updated Covid Information
Weller Book Works wants you to stay healthy.
For the health of our customers and staff,
WBW is continuing to require face masks or respirators in our store.
Disposable face masks are available if you do not have one.
Curbside pick-up and shipping services are available.
Staffing Shortfall
Dear Booklovers,
We will be CLOSED for in-person visits Sunday, January 23, 2022 due to a staffing shortfall.
You may still order books on this website for fulfillment Monday.
Please visit us again.
Zen and the Art of Motorcycle Maintenance: An Inquiry Into Values (Paperback)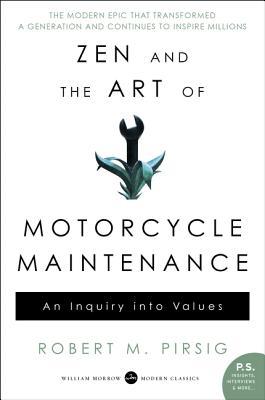 Description
---
THE CLASSIC BOOK THAT HAS INSPIRED MILLIONS
A penetrating examination of how we live and how to live better
Few books transform a generation and then establish themselves as touchstones for the generations that follow. Zen and the Art of Motorcycle Maintenance is one such book. This modern epic of a man's search for meaning became an instant bestseller on publication in 1974, acclaimed as one of the most exciting books in the history of American letters. It continues to inspire millions. 

A narration of a summer motorcycle trip undertaken by a father and his son, Zen and the Art of Motorcycle Maintenance becomes a personal and philosophical odyssey into fundamental questions on how to live. The narrator's relationship with his son leads to a powerful self-reckoning; the craft of motorcycle maintenance leads to an austerely beautiful process for reconciling science, religion, and humanism. Resonant with the confusions of existence, this classic is a touching and transcendent book of life.
This new edition contains an interview with Pirsig and letters and documents detailing how this extraordinary book came to be.
About the Author
---
Robert M. Pirsig (1928–2017) is the author of Zen and the Art of Motorcycle Maintenance, which has sold more than five-million copies since its publication in 1974, and Lila, a finalist for the 1992 Pulitzer Prize for Fiction. He graduated from the University of Minnesota (B.A., 1950; M.A., 1958) and also attended Benares Hindu University in India, where he studied Eastern philosophy, and the University of Chicago, where he pursued a PhD in philosophy. Pirsig's motorcycle resides in the Smithsonian Institution.
Praise For…
---
"An unforgettable trip."
— Time

"The book is inspired, original. . . . The analogies with Moby-Dick are patent."
— The New Yorker

"Profoundly important...full of insights into our most perplexing contemporary dilemmas."
— New York Times

"It is filled with beauty. . .a finely made whole that seems to emanate from a very special grace."
— Baltimore Sun

"A miracle . . . sparkles like an electric dream."
— The Village Voice