Collected Poems 1947-1997 (Paperback)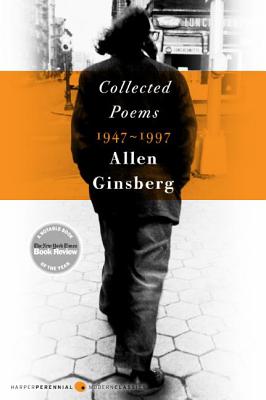 $25.99

Not in Stock... Available to ship in 3-5 days
Description
---
"Taken all together, Ginsberg's poems are X-rays of a considerable part of American society during the last four decades." — The New Yorker
This magnificent volume gathers the published verse of Allen Ginsberg in its entirety, a half-century of brilliant work from one of America's greatest poets.
A chief figure among the Beats, Ginsberg changed the course of American poetry, liberating it from closed academic forms with the creation of open, vocal, spontaneous, and energetic postmodern verse in the tradition of Whitman, Apollinaire, Hart Crane, Pound, and William Carlos Williams. Ginsberg's raw tones and attitudes of spiritual liberation also helped catalyze a psychological revolution that has become a permanent part of our cultural heritage, profoundly influencing not only poetry and popular song and speech, but also our views of the world.
About the Author
---
Allen Ginsberg was a member of the American Academy of Arts and Letters as well as a winner of the National Book Award for Poetry. He was born in Newark, New Jersey, in 1926, and died in New York City in 1997.
Praise For…
---
"A hefty, brilliant volume that shows Ginsberg (1926-97) to be not only a legendary protest writer but also a lyric poet preoccupied with passion, place and fate." — New York Times
"If you want to read Ginsberg's poetry, you should go straight to the source. COLLECTED POEMS 1947-1997 gathers everything, from the early work of "Empty Mirror" to the last pieces he completed before his death…One is continually blown away by Ginsberg's poetic structures." — Los Angeles Times
"Taken all together, Ginsberg's poems are X-rays of a considerable part of American society during the last four decades." — The New Yorker
"The mammoth new COLLECTED POEMS, 1947-1997 places Ginsberg firmly among the most prolific poets of the age." — Washington Post Book World
"as the new volume shows [Ginsberg] was a lyric poet of the old school preoccupied with passion, place and fate, whose consciousness, under pressure from the Bomb, released weird new isotopes into the atmosphere." — New York Times Book Review
"At 1,200 pages, the current volume testifies to the poet's scope and indefatigable energy; there's a lot to like…The best of his verse in COLLECTED POEMS 1947-1997 accumulates with a relentless, visionary eye, his characteristic mix of activism and mysticism enduring in his aging body, still howling." — Chicago Sun-Times
"Sooner or later, anyone interested in American poetry must embrace Allen Ginsberg." — Houston Chronicle
"The COLLECTED POEMS" are the ultimate statement on Ginsberg's art." — Chicago Tribune
"he wrote any number of splendid, singular poems that no other American poet of our age was capable of penning…the Spoken Word, Romantic, street-smart, vatic, wise-ass, good-humored anti-academic drift in American verse is largely the stepchild of his singular brilliance." — San Diego Union-Tribune
"The volume gathers for the first time all the published verse of beat poet Ginsberg, whose raw voice led poetry in a new, radical direction…Taken together, this collection serves as Ginsberg's autobiography and a history, in verse, of a turbulent time in American culture." — Salt Lake City Tribune
"The volume gathers for the first time all the published verse of...poet Ginsberg...A history...of a turbulent time." — Salt Lake City Tribune
"Essential…COLLECTED POEMS…is easily the best of the bunch…Some 50 years later, Ginsberg's talent still glows on paper." — The Post and Courier
"Ginsberg's poems are reminders that those who face a culture's disapproval can approve themselves." — The Progressive
"Ginsberg is both tragic and dynamic, a lyrical genius, con man extraordinaire and probably the single greatest influence on American poetical voice since Whitman." — Bob Dylan