Bad Monkeys: A Novel (Paperback)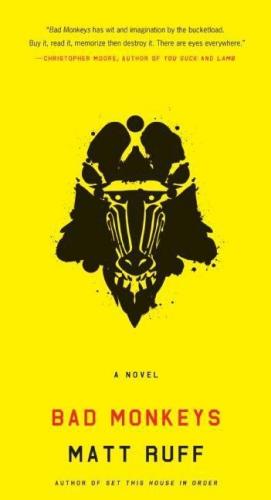 Description
---
"Bad Monkeys has wit and imagination by the bucketload. . . . Buy it, read it, memorize then destroy it. There are eyes everywhere."
—Chris Moore, bestselling author of A Dirty Job and Lamb
Jane Charlotte has been arrested for murder. She tells police that she is a member of a secret organization devoted to fighting evil; her division is called the Department for the Final Disposition of Irredeemable Persons—"Bad Monkeys" for short. This confession earns Jane a trip to the jail's psychiatric wing, where a doctor attempts to determine whether she is lying, crazy, or playing a different game altogether.
Clever and gripping, full of unexpected twists and turns, teasing existential musings, and captivating prose, Bad Monkeys unfolds at lightning speed, taking readers to another realm of imagination.
About the Author
---
Matt Ruff is the author of the novels The Destroyer of Worlds, 88 Names, Lovecraft Country, Bad Monkeys, The Mirage, Set This House in Order, Fool on the Hill, and Sewer, Gas & Electric: The Public Works Trilogy. He lives in Seattle, Washington.