Nicotine: A Novel (Paperback)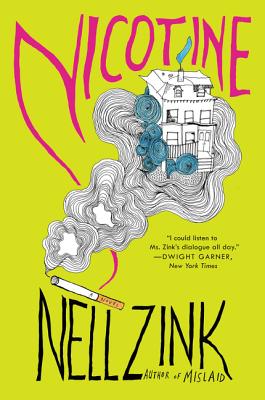 $15.99
Email or call for price.
November 2016 Indie Next List
---
"Zink excels at feel-good novels that, far from being sappy, are incredibly smart and laugh-out-loud funny. When recent college graduate Penny Baker inherits her hippie father's childhood house, she expects to find an abandoned ruin. Instead, she finds a house renovated and inhabited by squatters and falls desperately in love with one of them, something that does not go over well with her family. This deceptively simple premise allows Zink to return to some of her favorite themes of family and identity, as well as love, activism, and materialism, through the lives of unforgettable characters and hilarious situations. This book is a riot!"
— Pierre Camy (W), Schuler Books & Music, Grand Rapids, MI
Description
---
The "wonderfully talented" (Dwight Garner, New York Times) author of Mislaid returns with a "heady, witty" (Booklist) novel of obsession, idealism, and ownership, centered around a young woman who inherits her bohemian father's childhood home.
Recent business school graduate Penny Baker has rebelled against her family her whole life—by being the conventional one. Her mother, Amalia, was a member of an Amazonian tribe called the Kogi; her much older father, Norm, long ago attained cult-like deity status among a certain group of aging hippies while operating a 'healing center' in New Jersey. And she's never felt particularly close to her much-older half-brothers from Norm's previous marriage-one wickedly charming and obscenely rich (but mostly just wicked), one a photographer on a distant tropical island.

But all that changes when her father dies, and Penny inherits his childhood home in New Jersey. She goes to investigate the property and finds it occupied by a group of friendly and charming anarchist squatters who have renamed the property Nicotine House. The residents of Nicotine House (defenders of smokers' rights) possess the type of passion and fervor Penny feels she's desperately lacking, and the other squatter houses in the neighborhood provide a sense of community she's never felt before. Penny soon moves into a nearby residence, becoming enmeshed in the political fervor and commitment of her fellow squatters.

As the Baker family's lives begin to converge around the fate of the Nicotine House, Penny grows ever bolder and more desperate to protect it-and its residents-until a fateful night when a reckless confrontation between her old family and her new one changes everything. 
About the Author
---
Nell Zink grew up in rural Virginia. She has worked in a variety of trades, including masonry and technical writing. In the early 1990s, she edited an indie rock fanzine. Her books include The Wallcreeper, Mislaid, Private Novelist, and Nicotine, and her writing has appeared in n+1, Granta, and Harper's. She lives near Berlin, Germany.
Praise For…
---
"Extraordinary... Get the book for its crackling prose and razor-sharp wit, but ready yourself for its blitzkrieg of startling imagery."
— Village Voice

"Undeniably excellent... Propulsive... This is Zink at her most heartfelt... Zink is an architect. She builds worlds that look a little like ours, but are wrong enough to make one think—really think, not just feel. "
— New Republic

"Intellectually restless, uniquely funny...Propulsive, wonderfully stuffed with irreverent and absorbing banter...What's most bootylicious in this novel is Zink's warmhearted embrace of her subjects...One enjoys every minute with these obliging kooks....There may be some readers who want to make out with this book."
— New York Times Book Review

"Smart and often very funny... Even while Zink skewers bohemian stereotypes — the affluent squatter, the chain-smoking environmentalist — she cares for her characters, imbuing them with complicated personalities, causes and sexual proclivities. Rich sensory detail, earnest dialogue and raw emotion...Absorbing, original... Belongs on your fall list."
— Chicago Tribune

"She's a deadpan comedian, her sentences funny yet plump with existential dread...You're never tempted to put Ms. Zink's novels aside. They contain so much backspin and topspin that you're kept alert by the leaping motion... Her books are sexy... I could listen to Ms. Zink's dialogue all day."
— Dwight Garner, New York Times

"Even when Zink is being conventional, she's exemplary. What makes her satire so exciting and so novel is the empathy of her writing... Exciting and provocative... She's a singular figure in the literary landscape, and Nicotine is a perfect introduction to her brilliant, off-kilter world."
— Vox

"The author's best work... Zink is a wordsmith's wordsmith. She's sharp, wry, and might be a genius."
— The Millions

"A hilarious perversion of the rom-com…Ms. Zink's 2015 novel Mislaid delightfully sent up racial and gender mores, and here again she has affectionate fun tweaking the pieties of her cast of businessmen, cultists and activists. …Nicotine is light reading in the best sense. Think Wodehouse for millennials."
— Wall Street Journal

"[A] wild and nervy novel. Zink is a master of rapid character development, shifting perspectives, sex scenes and plot twists. … "Nicotine" was so addictive it made me want to reach for a cigarette when I was done."
— Los Angeles Times

"Zink writes some of the most comical lust between "love weasels" in contemporary fiction…[She] excels at scathing set pieces that caustically sum up places and local cultures…She gets her characters in motion, like mismatched roommates in a ramshackle house, and lets us enjoy watching them pinball around."
— Washington Post

"Zink has a sharp knack for illuminating the challenges facing American millennials circa now... [In Nicotine] you'll find the cutting social commentary and sharply drawn characters of one of this decade's most promising new novelists."
— Minneapolis Star Tribune

"Zink has instantly become one of the most unusual, refreshing voices in contemporary fiction. Her work is completely unfettered by genteel literary conventions and replete with robust storytelling...Both a satire of and a valentine to the 21st-century counterculture, Nicotine is sexy and political and hilarious."
— Slate