Rough Riders: Theodore Roosevelt, His Cowboy Regiment, and the Immortal Charge Up San Juan Hill (Large Print / Paperback)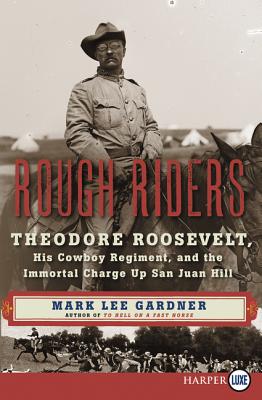 Description
---
The first definitive account of this legendary fighting force and its extraordinary leader, Theodore Roosevelt, Mark Lee Gardner's Rough Riders is narrative nonfiction at its most invigorating and compulsively readable. Its dramatic unfolding of a familiar, yet not-fully-known story will remind readers of James Swanson's Manhunt.
Two months after the sinking of the USS Maine in Havana Harbor in February 1898, Congress authorized President McKinley to recruit a volunteer army to drive the Spaniards from Cuba. From this army emerged the legendary "Rough Riders," a mounted regiment drawn from America's western territories and led by the indomitable Theodore Roosevelt. Its ranks included not only cowboys and other westerners, but several Ivy Leaguers and clubmen, many of them friends of "TR." Roosevelt and his men quickly came to symbolize American ruggedness, daring, and individualism. He led them to victory in the famed Battle at San Juan Hill, which made TR a national hero and cemented the Rough Riders' place in history.
Now, Mark Lee Gardner synthesizes previously unknown primary accounts as well as period newspaper articles, letters, and diaries from public and private archives in Arizona, Texas, Oklahoma, New Mexico, Boston, and Washington, DC, to produce this authoritative chronicle. He breathes fresh life into the Rough Riders and pays tribute to their daring feats and indomitable leader. Gardner also explores lesser-known aspects of the story, including their relationship with the African-American "Buffalo Soldiers, with whom they fought side by side at San Juan Hill.
Rich with action, violence, camaraderie, and courage, Rough Riders sheds new light on the Theodore Roosevelt saga—and on one of the most thrilling chapters in American history.
About the Author
---
Mark Lee Gardner is the author of Rough Riders, To Hell on a Fast Horse and Shot All to Hell, which received multiple awards, including a Spur Award from Western Writers of America. An authority on the American West, Gardner has appeared on PBS's American Experience, as well as on the History Channel, AMC, the Travel Channel, and on NPR. He has written for National Geographic History, American Heritage, the Los Angeles Times, True West, and American Cowboy. He holds an MA in American Studies from the University of Wyoming and lives with his family at the foot of Pikes Peak.
Praise For…
---
"Mark Lee Gardner's excellent book blends history, biography, and well-detailed combat narrative as it shows how Lt. Col. Theodore Roosevelt and the Rough Riders became national heroes." — Dallas Morning News
"Thrilling. ... Timeless. ... A classic, inspiring biography of a true American hero." — True West
"Rough Riders is excellent. It's not just first-rate history but a ripping yarn that shines new light on Theodore Roosevelt's extraordinary life." — Ron Hansen, author of The Assassination of Jesse James by the Coward Robert Ford
"Definitive." — True West
"A thrill ride for history buffs. ... A must read for Roosevelt aficionados and those who appreciate compelling stories of military history." — USA Today
"Few episodes from our past have done more to capture, and shape, central themes of the American character (real and imagined) than Teddy Roosevelt's exploits with the Rough Riders. In Mark Gardner's expert hands, a great American foundation story has been brought to vivid life." — Hampton Sides, New York Times bestselling author of In the Kingdom of Ice and Blood and Thunder
"As Hollywood's resident expert on Theodore Roosevelt, I found Mark Lee Gardner's Rough Riders to be a finely-honed and fresh look at this country's only 'cowboy' regiment to ever see combat." — John Milius, co-screenwriter of Apocalypse Now and director of The Wind and the Lion and Rough Riders (1997 TV film), both about Roosevelt
"Fast-paced and thoroughly researched. ... A rousing and robust story." — Kirkus Reviews
"Gardner brings the Rough Riders to life with clear, vivid prose and keen insights. You can almost smell the saddle leather and gunsmoke, hear the bugles calling to a glorious adventure second to none. Gardner leads this literary charge -- and it's indeed a grand one." — Paul Andrew Hutton, author of The Apache Wars
"Gardner delivers rousing blow-by-blow accounts of the various battles and showcases Roosevelt's hypermasculine panache." — Library Journal
"Gardner provides some terrifying, exhilarating stories of battle... and celebrates Roosevelt." — Publishers Weekly
"Rich in action and telling details." — Albuquerque Journal
"Overflowing with intelligently packaged information about Roosevelt and his regiment, massaged into an appealing action-narrative style as instructive alike to enthusiast and newcomer as it is enjoyable to read." — Theodore Roosevelt Association Journal
"[Gardner's] fast pace and comprehensive research... carry readers into a brief and memorable period of history." — New Mexico Magazine
"Gardner's book is well-researched, and his narrative is absorbing." — San Antonio Express-News
"Gardner's account of the famous charge up San Juan Hill pulses with the kinetic confusion of men under fire. ... Gardner ably defends Roosevelt's accomplishments on the battlefield." — Newsday
"Breathes new life into [the Rough Riders' tale] through detailed research, close attention to detail, and gripping narrative. ... A worthy addition to the body of work surrounding this iconic tale of American history." — Military Heritage
"An engaging and up-to-date chronicle of the Rough Riders' saga." — The Journal of America's Military Past
"Absorbing. ... [Gardner's] ability to recreate those weeks, in all their glory... is impressive." — Bookreporter.com
"There have been countless books written about various facets of Theodore Roosevelt's life, but it's unlikely that any offer the masterful mix of rousing storytelling and historical accuracy in Mark Gardner's book." — Roundup Magazine
"Compelling reading. ... Gardner renders an especially authentic portrait." — HistoryNet
"Gardner is one of this nation's premier historians of the American West." — Col. Cole C. Kingseed, USA Ret., Ph.D., Army Magazine