28 Barbary Lane: "Tales of the City" Books 1-3 (Tales of the City Omnibus #1) (Paperback)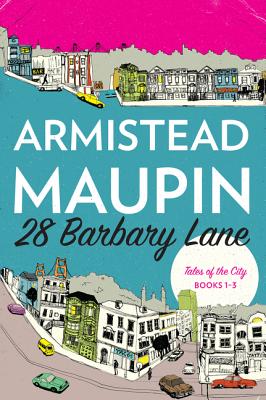 Description
---
Armistead Maupin's uproarious and moving Tales of the City novels—the first three of which are collected in this omnibus volume—have earned a unique niche in American literature and are considered indelible documents of cultural change from the seventies through the first two decades of the new millennium.
"These novels are as difficult to put down as a dish of pistachios. The reader starts playing the old childhood game of 'Just one more chapter and I'll turn out the lights,' only to look up and discover it's after midnight."—Los Angeles Times Book Review
Originally serialized in the San Francisco Chronicle, Armistead Maupin's Tales of the City (1978), More Tales of the City (1980), and Further Tales of the City (1982) afforded a mainstream audience of millions its first exposure to straight and gay characters experiencing on equal terms the follies of urban life.
Among the cast of this groundbreaking saga are the lovelorn residents of 28 Barbary Lane: the bewildered but aspiring Mary Ann Singleton, the libidinous Brian Hawkins; Mona Ramsey, still in a sixties trance, Michael "Mouse" Tolliver, forever in bright-eyed pursuit of Mr. Right; and their marijuana-growing landlady, the indefatigable Mrs. Madrigal.
Hurdling barriers both social and sexual, Maupin leads them through heartbreak and triumph, through nail-biting terrors and gleeful coincidences. The result is a glittering and addictive comedy of manners that continues to beguile new generations of readers.
About the Author
---
Armistead Maupin is the author of the nine-volume Tales of the City series, which includes Tales of the City, More Tales of the City, Further Tales of the City, Babycakes, Significant Others, Sure of You, Michael Tolliver Lives, Mary Ann in Autumn, and now The Days of Anna Madrigal. Maupin's other novels include Maybe the Moon and The Night Listener. Maupin was the 2012 recipient of the Lambda Literary Foundation's Pioneer Award. He lives in San Francisco with his husband, the photographer Christopher Turner.
Praise For…
---
"An enormously talented writer—witty but always sympathetic, generous in showing us the secrets of his heart.... By writing about what's seemingly different Armistead Maupin always manages to capture what's so hilariously painfully true for all of us."- — Amy Tan
"Perhaps the most sublime piece of popular literature America has ever produced…. As with the Beatles, everyone seems to like Maupin's tales—and really, why would you want to find someone who didn't?" — Salon
"These novels are as difficult to put down as a dish of pistachios. The reader starts playing the old childhood game of 'Just one more chapter and I'll turn out the lights,' only to look up and discover it's after midnight." — Los Angeles Times Book Review