An Ordinary Man: The Surprising Life and Historic Presidency of Gerald R. Ford (Hardcover)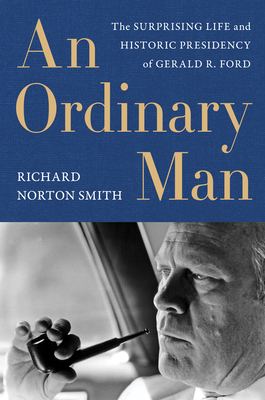 $50.00

Not in Stock... Available to ship in 3-5 days
Description
---
Wall Street Journal Top 10 Best Books of 2023
"Richard Norton Smith had brought a lifetime of wisdom, insight, and storytelling verve to the life of a consequential president—Gerald R. Ford. Ford's is a very American life, and Smith has charted its vicissitudes and import with great grace and illuminating perspective. A marvelous achievement!" -- Jon Meacham
From the preeminent presidential scholar and acclaimed biographer of historical figures including George Washington, Herbert Hoover, and Nelson Rockefeller comes this eye-opening life of Gerald R. Ford, whose presidency arguably set the course for post-liberal America and a post-Cold War world.
For many Americans, President Gerald Ford was the genial accident of history who controversially pardoned his Watergate-tarnished predecessor, presided over the fall of Saigon, and became a punching bag on Saturday Night Live. Yet as Richard Norton Smith reveals in a book full of surprises, Ford was an underrated leader whose tough decisions and personal decency look better with the passage of time.
Drawing on hundreds of interviews and thousands of documents, Smith recreates Ford's hardscrabble childhood in Michigan, his early anti-establishment politics and lifelong love affair with the former Betty Bloomer, whose impact on American culture he predicted would outrank his own. As president, Ford guided the nation through its worst Constitutional crisis since the Civil War and broke the back of the most severe economic downturn since the Great Depression—accomplishing both with little fanfare or credit (at least until 2001 when the JFK Library gave him its prestigious Profile in Courage Award in belated recognition of the Nixon pardon).
Less coda than curtain raiser, Ford's administration bridged the Republican pragmatism of Eisenhower and Nixon and the more doctrinaire conservatism of Ronald Reagan. His introduction of economic deregulation would transform the American economy, while his embrace of the Helsinki Accords hastened the collapse of the Soviet Union.
Illustrated with sixteen pages of black-and-white photos, this definitive biography, a decade in the making, will change history's views of a man whose warning about presidential arrogance ("God help the country") is more relevant than ever.
About the Author
---
Director of five presidential libraries, a familiar face to viewers of C-Span and the PBS News Hour, Richard Norton Smith is the author of, among other works, Thomas E. Dewey and His Times, which was a finalist for the Pulitzer Prize; Patriarch: George Washington and the New American Nation; and On His Own Terms; A Life of Nelson Rockefeller.
Praise For…
---
"Richard Norton Smith had brought a lifetime of wisdom, insight, and storytelling verve to the life of a consequential president—Gerald R. Ford. Ford's is a very American life, and Smith has charted its vicissitudes and import with great grace and illuminating perspective. A marvelous achievement!" — Jon Meacham
"Scintillatingly told . . . [a] timely and revelatory 832-page biography." — George F. Will, The Washington Post
"Gerald Ford is probably remembered more for how he got to the presidency than for what he did there. In this brilliant book, Richard Norton Smith tells the rest of the story. On every other page I found something I didn't know, bringing new and important insights into how Ford kept the nation together and moved it past its most severe political crisis since the Civil War. It will become the definitive work on Ford and his presidency." — Bob Schieffer, CBS News
"Richard Norton Smith's monumental An Ordinary Man is a comprehensive, brilliant biography of Gerald Ford; solidly researched, crisply written, both objective and persuasive. . . . This is the definitive work on Ford that will stand the test of time." — Douglas Brinkley, author of Silent Spring Revolution: John F. Kennedy, Rachel Carson, Lyndon Johnson, Richard Nixon, and the Great Environmental Awakening
"[A] superb . . . biography . . . . Mr. Smith describes, in nuanced detail, how Ford gradually stopped defending Nixon and how, prompted by Betty, he was careful not to promise a pardon in return for Nixon's resignation. . . . Mr. Smith brings exhaustive research and graceful prose to this engrossing biography of a not-so-ordinary man who, it turned out, had an extraordinary life." — Michael Barone, Wall Street Journal
"This book is a page-turner! With a propulsive narrative style, grounded in exhaustive research, Smith's biography of Gerald Ford offers surprising insights into our underestimated 38th president. Rare is the history book that rewrites history. This is one." — Kristie Miller, author of Ellen and Edith: Woodrow Wilson's First Ladies
"In his groundbreaking biography, Richard Norton Smith elegantly captures Gerald R. Ford, from his Midwestern beginnings, prosaic with twists of tempestuousness, to his accidental though consequential turn as our 38th president, and the graceful end to his 93 years. Rich in revelations and detail, Smith offers a definitive portrait of this extraordinary 'ordinary man.'" — Mark K. Updegrove, president & CEO of the LBJ Foundation and author of Incomparable Grace: JFK in the Presidency
"Devoting the bulk of the book to Ford's presidency, Smith meticulously details key moments, including the behind-the-scenes maneuvering to secure Nixon's resignation, negotiations over the 1975 Helsinki Accords with the Soviet Union ("Widely denounced at the time... [but] now regarded as an important milestone on the road to European liberation," Smith contends), and the hard-fought battle to secure the 1976 Republican presidential nomination over Ronald Reagan. . . . This is a solid and revealing biography of an underestimated president." — Publishers Weekly
"Richard Norton Smith's extraordinary biography of Gerald Ford, An Ordinary Man, pulls together multiple perspectives to give essential insights into Ford's thinking and leadership." — Leadership Now