Devil in the Grove: Thurgood Marshall, the Groveland Boys, and the Dawn of a New America (Paperback)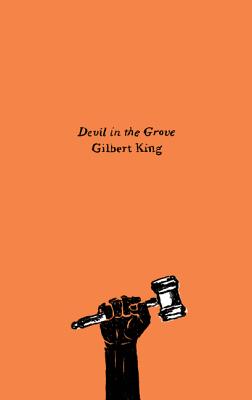 $10.00
Email or call for price
Description
---
* Winner of the 2013 Pulitzer Prize for General Nonfiction
* Nominated for a 2013 Edgar Award 
* Book of the Year (Non-fiction, 2012) The Boston Globe, Christian Science Monitor
From acclaimed, prize-winning author Gilbert King comes this gripping true story of racism, murder, rape, and the law—a stirring account that brings to light one of the most dramatic court cases in American history, and offers a rare and revealing portrait of Thurgood Marshall that the world has never seen before—now available in a limited Olive Edition.


Arguably the most important American lawyer of the twentieth century, Thurgood Marshall was on the verge of bringing the landmark suit Brown v. Board of Education before the U.S. Supreme Court when he became embroiled in a case that threatened to change the course of the civil rights movement and cost him his life.
In 1949, Florida's orange industry was booming, and citrus barons got rich on the backs of cheap Jim Crow labor with the help of Sheriff Willis V. McCall, who ruled Lake County with murderous resolve. When a white seventeen-year-old girl cried rape, McCall pursued four young blacks who dared envision a future for themselves beyond the groves. The Ku Klux Klan joined the hunt, hell-bent on lynching the men who came to be known as "the Groveland Boys."
Associates thought it was suicidal for Marshall to wade into the "Florida Terror," but the young lawyer would not shrink from the fight despite continuous death threats against him.
Drawing on a wealth of never-before-published material, including the FBI's unredacted Groveland case files, as well as unprecedented access to the NAACP's Legal Defense Fund files, Gilbert King shines new light on this remarkable civil rights crusader.
About the Author
---
Gilbert King has written about U.S. Supreme Court history for the New York Times and the Washington Post, and is a featured contributor to Smithsonian magazine's history blog, Past Imperfect. He is the author of The Execution of Willie Francis: Race, Murder, and the Search for Justice in the American South. He lives in New York City with his wife and two daughters.
Praise For…
---
"This story about four young black men who were accused of the rape of a white woman in Lake County, Fla., in 1949 — and what the local sheriff and his cronies, who were itching for a lynching, got away with — is a must-read, cannot-put-down history."
— Thomas Friedman, New York Times

"A powerful and well-told drama of Southern injustice."
— Chicago Tribune

"A compelling look at the case that forged Thurgood Marshall's perception of himself as a crusader for civil rights. . . . King's style [is] at once suspenseful and historically meticulous"
— Christian Science Monitor

"After reading Gilbert King's excellent book on a little known and horrifying incident in which four young black men were rounded up and accused of raping a white woman, readers cannot help but be awed by the bravery of those who took a stand in the late 1940s and early 1950s."
— San Francisco Chronicle

"Superb."
— Junot Diaz, author of This Is How You Lose Her

"Recreates an important yet overlooked moment in American history with a chilling, atmospheric narrative that reads more like a Southern Gothic novel than a work of history."
— Salon

"A taut, intensely readable narrative."
— Boston Globe

"The story's drama and pathos make it a page-turner, but King's attention to detail, fresh material, and evenhanded treatment of the villains make it a worthy contribution to the history of the period, while offering valuable insight into Marshall's work and life."
— Publishers Weekly

"A thoroughgoing study of one of the most important civil-rights cases argued by Thurgood Marshall in dismantling Jim Crow strictures. . . . Deeply researched and superbly composed."
— Kirkus Reviews (starred review)

"A compelling chronicle."
— Booklist