The Real Deal: My Decade Fighting Battles and Winning Wars with Trump (Hardcover)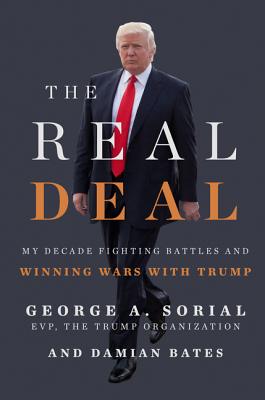 Description
---
Remember when Trump was a great boss, a great father, and a great businessman, before the liberal media rewrote that narrative? That's still the real Trump.
Longtime Trump Organization executive and attorney George A. Sorial saw the real Trump firsthand, from the early days of The Apprentice to the passing of power to the younger generation before the inauguration. He learned from his boss how to use chaos, the media, and a single-minded focus to achieve things everyone else said were impossible.
He learned how to predict what the world's least predictable leader would do next.
In The Real Deal, George A. Sorial and Damian Bates, a former newspaper editor who has covered Trump for years, explain the forty-fifth president's business and political strategies in detail. Often what looks complicated is just a man giving the people what he wants. For instance, why would Trump run for president, when winning would be a financial disaster for him? He was forced to set aside his TV contracts and international expansion, costing him hundreds of millions of dollars. The answer is: because everyone he talked to wanted him to run to make America great again.
In this book we see a man barely recognizable from the media's depiction. We see the deliberate and cunning reasons he scolds people, gets impatient with complicated briefings, hires neophytes, and starts fights in the media. We also see a boss who was hard-working, fun, well read, generous with opportunities, and endlessly interested in outside opinions.
The mainstream media has tried to undermine the president at every turn by spreading lies about his management abilities, his negotiation style, and his business success. Now, in The Real Deal, George A. Sorial and Damian Bates explain how Trump's unusual style worked so well for decades—and how it's working better in the White House than anyone realizes.
About the Author
---
George A. Sorial was Executive Vice President & Counsel to The Trump Organization for over twelve years, working directly alongside Donald J. Trump until his inauguration in January 2017. He then became EVP and Chief Compliance Counsel to the business, reporting directly to Donald Trump Jr. and Eric Trump.
Damian Bates
 worked as a journalist for nearly thirty years in the United Kingdom. He now runs his own reputation management consultancy, covering strategic communications and public affairs. He has known Donald J. Trump for over a decade. For the record, he is married to Sarah Malone.
Damian Bates is a journalist who has also known and covered Trump for over a decade.
Praise For…
---
"In stark contrast to the anonymous attacks elevated by the news media, this book is a comprehensive account of Donald J. Trump written by someone who actually knows him. If you want to learn more about who our president is, The Real Deal describes who he has always been. This is an important, educational book about our president." — Newt Gingrich
"An inside look into the real Donald Trump, from one of the men who knows him best. Sorial and Bates explore all of the quirky, unconventional, and authentic attributes of the man patriotic Americans love and Leftists love to hate. If you've ever wondered what our forty-fifth president is like behind closed doors and away from the media circus, this book is for you!" — Tomi Lahren
"The definitive book on what President Trump is like as a leader, up close and personal. It's an invaluable reminder of the successful, generous family man the fake news rarely shows us. It also reveals exactly how much wealth President Trump sacrificed for our nation, while other presidents sacrificed our nation for their wealth." — Charlie Kirk