Illustrated Black History: Honoring the Iconic and the Unseen (Hardcover)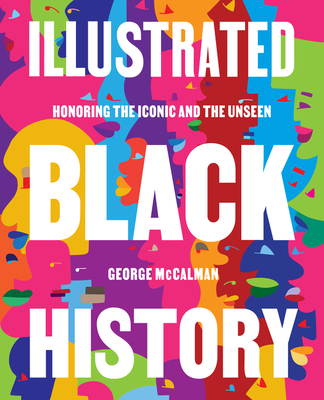 $40.00

Not in Stock... Available to ship in 3-5 days
Description
---
*AWARD WINNER* of the NAACP Image Award for Outstanding Literary Work - Debut Author / and the NCBR Recognition Award
A gorgeous collection of 145 original portraits that celebrates Black pioneers—famous and little-known--in politics, science, literature, music, and more—with biographical reflections, all created and curated by an award-winning graphic designer.
Illustrated Black History is a breathtaking collection of original portraits depicting black heroes—both famous and unsung—who made their mark on activism, science, politics, business, medicine, technology, food, arts, entertainment, and more. Each entry includes a lush drawing or painting by artist George McCalman, along with an insightful essay summarizing the person's life story.
The 145 entries range from the famous to the little-known, from literary luminary James Baldwin to documentarian Madeline Anderson, who produced "I Am Somebody" about the 1969 strike of mostly female hospital workers; from Aretha Franklin to James and Eloyce Gist, who had a traveling ministry in the early 1900s; from Colin Kaepernick to Guion S. Bluford, the first Black person to travel into space.
Beautifully designed with over 300 unique four-color artworks and accessible to readers of all ages, this eye-opening, educational, dynamic, and timely compendium pays homage to Black Americans and their achievements, and showcases the depth and breadth of Black genius.
About the Author
---
George McCalman is an artist, graphic designer, and creative director. His studio, McCalman.co creates long-lasting brands for clients across arts, lifestyle, food, and mobile media. He is a senior lecturer in graphic design at California College of Art and is the author and illustrator for the San Francisco Chronicle's monthly "Observed" column. He lives in San Francisco.
Praise For…
---
"This vivid survey of Black history leaps off the page." — Publishers Weekly
"In this vibrant, inclusive collection, McCalman honors the legacies of 145 Black Americans whose societal contributions cannot be overstated. His profiles and watercolors are wonderfully diverse, including both live and deceased; recognizable and lesser known; contemporary and historic... Accessible, important, and germane to the very fabric of American life, this moving collection of illustration and biography artistically reflects struggle, achievement, and perseverance... An enthusiastic, informative, and essential ode to Black American history."
— Kirkus Reviews
"A unique and engaging entry point into Black history that will no doubt inspire further research into extraordinary figures from the past and present." — Booklist
"Black icons and pioneers honored in a stunning new collection... The work is a testament to the urgency of our time here: how little of it there is, and how much we can give despite it." — San Francisco Chronicle
"I have always gotten such a lift from George McCalman's work—both spiritual and visual. His charming, informed, and always heartfelt art says so much about Black American life and history that he is now an essential part of the dialogue. What a gift this book is." — Hilton Als, critic for The New Yorker, winner of the Pulitzer Prize for Criticism
"In Illustrated Black History, George McCalman brings all of his brilliance—his whole heart, his keen artistic eye, his command of the written word—to this dazzling celebration of Black people. Not since Toni Morrison's The Black Book has Black history been so vibrantly or imaginatively catalogued. We are all richer and wiser for it."
— Natalie Baszile, bestselling author of Queen Sugar and We Are Each Other's Harvest
"Black history remains dynamic, yet certain assumptions are often baked into text. Illustrated Black History invites us with a beginner's mind to stay rooted in community to keep the past alive. George McCalman's pen projects the lives of Black luminaries who, for as long as they have shone, deserve richer tones and subtle shades, too. This book will serve as a lighthouse whose sweeping lamp will unsettle staid perspectives and confirm what most of us know in our hearts: Black people have led irresistibly exciting lives across time."
— George Aumoithe, Assistant Professor of History and African American Studies, Harvard
"The experiences and narratives of Black folk throughout time and space are boundless. As you read and study the images throughout this captivating work you will appreciate the respect shown in honoring both the collective and individual histories: from the figures chosen; the essays written; and the range of mediums and approaches used in the over 140 beautiful portraits. The care and reverence shown to the Black lived experiences shines clear in this brilliant and timely work that captures both the known and especially the unseen." — Anyabwile Love, PHD, History and Black Studies professor, Community College of Philadelphia.
"Through his design studio, George McCalman has created book covers and print images that draw readers in to want to open the pages and discover more. He's taken that same approach with this book, serving as a griot, beautifully sharing the stories of astounding and often undercelebrated people, who are united by their Blackness toward a common goal of equality and a fairer society for all."  — Wyatt Cenac, Comedian