A Solitude of Wolverines: A Novel of Suspense (Alex Carter Series #1) (Paperback)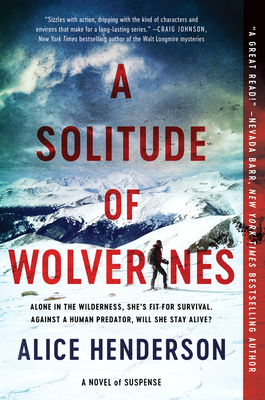 Other Books in Series
This is book number 1 in the Alex Carter Series series.
Description
---
"Both a mystery and a survival story, here is a novel written with a naturalist's eye for detail and an unrelenting pace. It reminded me of the best of Nevada Barr." —James Rollins, #1 New York Times bestselling author of The Last Odyssey  
The first book in a thrilling series featuring an intrepid wildlife biologist who's dedicated to saving endangered species...and relies on her superior survival skills to thwart those who aim to stop her.

While studying wolverines on a wildlife sanctuary in Montana, biologist Alex Carter is run off the road and threatened by locals determined to force her off the land.
Undeterred in her mission to help save this threatened species, Alex tracks wolverines on foot and by cameras positioned in remote regions of the preserve. But when she reviews the photos, she discovers disturbing images of an animal of a different kind: a severely injured man seemingly lost and wandering in the wilds.
After searches for the unknown man come up empty, local law enforcement is strangely set on dismissing the case altogether, raising Alex's suspicions. Then another invasive predator trespasses onto the preserve. The hunter turns out to be another human—and the prey is the wildlife biologist herself. Alex realizes too late that she has seen too much—she's stumbled onto a far-reaching illegal operation and now has become the biggest threat.
In this wild and dangerous landscape, Alex's life depends on staying one step ahead—using all she knows about the animal world and what it takes to win the brutal battle for survival.
About the Author
---
In addition to being a writer, Alice Henderson is a wildlife sanctuary monitor, geographic information systems specialist, and bioacoustician. She documents wildlife on specialized recording equipment, checks remote cameras, creates maps, and undertakes wildlife surveys to determine what species are present on preserves, while ensuring there are no signs of poaching. She's surveyed for the presence of grizzlies, wolves, wolverines, jaguars, endangered bats, and more. 
Praise For…
---
"What a treat! Alice Henderson has delivered a treasure of a novel—and, to readers' delight, a promise of more where this came from. Her depiction of the natural world in all its beauty and terror is spot-on. Into this she weaves a cast of characters both original and fascinating, as well as a heroine who does the unbelievable, yet one can believe it. A great read!"
— Nevada Barr, New York Times bestselling author
"A true stunner of a thriller debut...It's so fraught with excitement and wondrous details that it demands to be read in one sitting and savored afterward. Don't miss it."
— James Rollins, #1 New York Times bestselling author of The Last Odyssey  
"With a plot and character arc that leap from the frying pan into the fire, A Solitude of Wolverines sizzles with action, dripping with the kind of characters and environs that make for a long-lasting series in which readers can really sink their teeth." — Craig Johnson, New York Times bestselling author of the Walt Longmire mysteries  
"A Solitude of Wolverines by Alice Henderson is a thriller with a heart, a riveting story of conspiracy, murder, and wilderness survival that will keep you turning the pages. Vivid characters, a pulse-pounding plot, a fascinating wildlife-conservation background, and beautifully realized settings make this an exceptional read. This is the first book in a series about wildlife biologist Alex Carter; I can't wait for the next one."
— Douglas Preston, #1 bestselling coauthor of Relic and Crooked River.
"The novel is packed with action. Alex is smart, with an impressive knowledge of wildlife as well as guns and self-defense tactics. It's no plot spoiler to say she survives and will be back."
— Denver Post
"Alice Henderson has proven she is a true master of suspense. A Solitude of Wolverines is not for the faint of heart. It is a compelling, nail-biting story that kept me on the edge of my seat from the very first page. I couldn't put it down." — —Owl Goingback, Bram Stoker Award-winning author of Coyote Rage
"A Solitude of Wolverines is a rare species indeed: an edge-of-your-seat thriller that engages not just the adrenaline glands but the heart and soul as well. With an engaging heroine, an incredible setting and pulse-pounding action, this one is truly a breed apart." — —Lisa Morton, six-time Bram Stoker Award winner
"A thriller that combines non-stop, breathtaking action with lyrical descriptions of a haunting landscape. I could not put it down." — —Terry Shames, author of the award-winning Samuel Craddock series
"Looking for a little action with your activism? A Solitude of Wolverines delivers in spades. A page-turning read that will definitely leave you guessing. Alice Henderson is an author to watch!" — —Michael Laurence, author of The Annihilation Protocol
"Alice Henderson at this point takes what might have been the first animal-activist/naturalist thriller I can recall and combines chills, thrills, and heart right up through the breathless finale. I look forward to the next Alex Carter novel!" — CriminalElement.com
"The combination of environmentalism, suspense, and action strategically placed throughout A Solitude of Wolverines makes this novel distinctly different than others in its respective genre... A Solitude of Wolverines is filled with twists and turns that keep readers interested and engaged." — The Nerd Daily
"Best thriller of the year so far. Seriously." — Fresh Fiction