Sellout: The Major-Label Feeding Frenzy That Swept Punk, Emo, and Hardcore (1994-2007) (Paperback)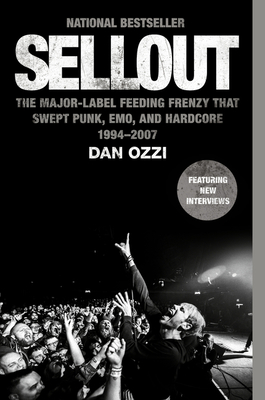 $19.99

Not in Stock... Available to ship in 3-5 days
Description
---
NATIONAL BESTSELLER
AN NPR BEST BOOK OF THE YEAR
"Ozzi's reporting is strong, balanced and well told...a worthy successor to its obvious inspiration, Michael Azerrad's 2001 examination of the '80s indie underground, Our Band Could Be Your Life."—New York Times Book Review
A raucous history of punk, emo, and hardcore's growing pains during the commercial boom of the early 90s and mid-aughts, following eleven bands as they "sell out" and find mainstream fame, or break beneath the weight of it all.
Punk rock found itself at a crossroads in the mid-90's. After indie favorite Nirvana catapulted into the mainstream with its unexpected phenomenon, Nevermind, rebellion was suddenly en vogue. Looking to replicate the band's success, major record labels set their sights on the underground, and began courting punk's rising stars. But the DIY punk scene, which had long prided itself on its trademark authenticity and anti-establishment ethos, wasn't quite ready to let their homegrown acts go without a fight. The result was a schism: those who accepted the cash flow of the majors, and those who defiantly clung to their indie cred.
In Sellout, seasoned music writer Dan Ozzi chronicles this embattled era in punk. Focusing on eleven prominent bands who made the jump from indie to major, Sellout charts the twists and turns of the last "gold rush" of the music industry, where some groups "sold out" and rose to surprise super stardom, while others buckled under mounting pressures. Sellout is both a gripping history of the music industry's evolution, and a punk rock lover's guide to the chaotic darlings of the post-grunge era, featuring original interviews and personal stories from members of modern punk's most (in)famous bands:
Green Day
Jawbreaker
Jimmy Eat World
Blink-182
At the Drive-In
The Donnas
Thursday
The Distillers
My Chemical Romance
Rise Against
Against Me!
About the Author
---
Dan Ozzi is a New York-raised, Los Angeles-based writer. Along with Against Me!'s Laura Jane Grace, he co-authored 2016's TRANNY, which was listed in Billboard's "100 Greatest Music Books of All Time." He has contributed to The Guardian, SPIN, Billboard, The Fader, and others. For more than five years, he was a staff writer at VICE's music website, Noisey.
Praise For…
---
"Engrossing…a rigorously researched look at how labels targeted bands and fought to sign them." — Jim Ruland, Los Angeles Times
"[Ozzi] looked at the major label debuts of different bands in this genre, tracing a music industry in flux, fans betrayed by their idols, and bands trying to navigate the machine." — NPR's All Things Considered 
"A forensic and uniquely sympathetic dive into one of the most uncouth actions for an artist—selling out, baby." — Jeff Rosenstock
"Fascinating… When it comes to the topic of punk, or more specifically, the iteration of the genre that existed during the last era of the traditional music industry, Dan Ozzi's Sellout is poised to serve as a definitive text." — San Francisco Chronicle
"Based on a trove of original interviews and personal stories from band members and other crucial players, Ozzi examines how 11 groups grappled with the tension between punk's core tenets and major label possibilities, and parses what success and failure looked like in this fraught realm." — Rolling Stone