Grassland: The History, Biology, Politics and Promise of the American Prairie (Paperback)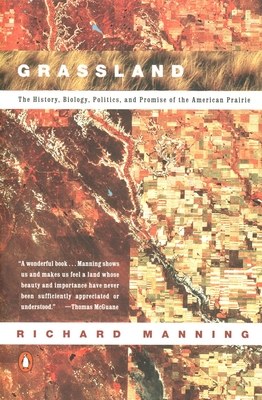 $17.00
Email or call for price
Description
---
More than forty percent of our country was once open prairie, grassland that extended from Missouri to Montana. Taking a critical look at this little-understood biome, award-winning journalist
Richard Manning
urges the reclamation of this land, showing how the grass is not only our last connection to the natural world, but also a vital link to our own prehistoric roots, our history, and our culture.
Framing his book with the story of the remarkable elk, whose mysterious wanderings seem to reclaim his ancestral plains, Manning traces the expansion of America into what was then viewed as the American desert and considers our attempts over the last two hundred years to control unpredictable land through plowing, grazing, and landscaping. He introduces botanists and biologists who are restoring native grasses, literally follows the first herd of buffalo restored to the wild prairie, and even visits Ted Turner's progressive--and controversial--Montana ranch. In an exploration of the grasslands that is both sweeping and intimate, Manning shows us how we can successfully inhabit this and all landscapes.
About the Author
---
Richard Manning is the author of Grassland, A Good House, and Last Stand, a finalist for the Sigurd F. Olson Nature Writing Award. He worked as a reporter for fifteen years, including four years at the Missoulian. A recipient of a John S. Knight Fellowship at Stanford University and a three-time winner of the Seattle Times C.B. Blethen Award for Investigative Journalism, he has also won the Audubon Society Journalism Award and the first Richard J. Margolis Award for environmental reporting. His work has appeared in a variety of magazines and newspapers, including Harper's, Audubon, Outside, Sierra, E, High Country News, and the Bloomsbury Review. Richard Manning lives in the house he built with his wife in Lolo, Montana.