Salt: A World History (Paperback)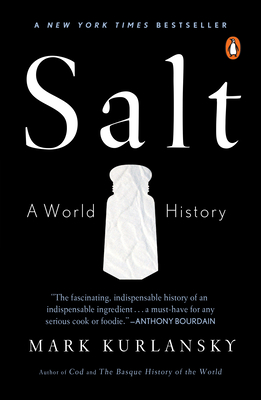 $19.00

Not in Stock... Available to ship in 3-5 days
Description
---
"Kurlansky finds the world in a grain of salt." - New York Times Book Review

An unlikely world history from the bestselling author of Cod and The Basque History of the World

Best-selling author Mark Kurlansky turns his attention to a common household item with a long and intriguing history: salt. The only rock we eat, salt has shaped civilization from the very beginning, and its story is a glittering, often surprising part of the history of humankind. A substance so valuable it served as currency, salt has influenced the establishment of trade routes and cities, provoked and financed wars, secured empires, and inspired revolutions.  Populated by colorful characters and filled with an unending series of fascinating details, Salt is a supremely entertaining, multi-layered masterpiece.
About the Author
---
Mark Kurlansky was born in Hartford, Connecticut. After receiving a BA in Theater from Butler University in 1970—and refusing to serve in the military—Kurlansky worked in New York as a playwright, having a number of off-off Broadway productions, and as a playwright-in-residence at Brooklyn College. He has worked many other jobs, including as a commercial fisherman, a dock worker, a paralegal, a cook, and a pastry chef. In the mid-1970s he turned to journalism, and from 1976 to 1991 he worked as a foreign correspondent for The International Herald Tribune, The Chicago Tribune, The Miami Herald, and The Philadelphia Inquirer. Based in Paris and then Mexico, he reported on Europe, West Africa, Southeast Asia, Central America, Latin America, and the Caribbean. His articles have appeared in a wide variety of newspapers and magazines, including The Philadelphia Inquirer, The Miami Herald, The Chicago Tribune, The Los Angeles Times, Time, The New York Times and many more. He has had 35 books published including fiction, nonfiction, and children's books. His books include Havana, Cod, Salt, Paper, The Basque History of the World, 1968, The Big Oyster, among other titles. He has received the Dayton Literary Peace Prize, Bon Appetit's Food Writer of the Year Award, the James Beard Award, and the Glenfiddich Award. He lives in New York City.


Praise For…
---
"Kurlansky finds the world in a grain of salt...fascination and surprise regularly erupt from the detail." —
The New York Times Book Review
This is terrific food writing; like fleur de sel, something scarce and to be savored." —San Francisco Chronicle
"Kurlansky continues to prove himself remarkably adept at taking a most unlikely candidate and telling its tale with epic grandeur. " —Los Angeles Times Book Review
"If you are drawn to history and curious about the origins of foods, allow Mark Kurlansky to take you on an incredible journey through the centuries by way of salt." —The Baltimore Sun
"Kurlansky does a masterful job of expanding the reader's horizons....This book of minutely researched data and history can literally make the mouth water." —The Boston Globe