Mockingbird (Paperback)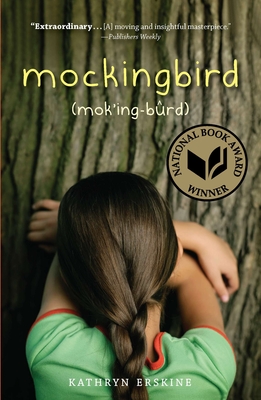 Staff Reviews
---
Mockingbird is the 2010 National Book Award winner for Young People's Literature. It tells the story of Caitlin Smith, a young girl with Asperger's Syndrome, who, along with her fater, is grieveing the loss of her brother in a school shooting. Here we get the store of how an act of extreme violence can shake a community to its core, cracking the foundations on a person by person basis. But we see it through Caitlin's unique perspective as she tries to make sense of the world in general and learns how to cope with great loss. Eventually, after getting help from a caring school therapist and a new friend, Caitlin learns to bridge the gap between her mind and her world. Then she is able to begin the process of healing, helping her father along the way.
Erskine wrote hr book in response to the Virginia Tech shootings of 2007. It is also inspired by her own experiences as a mother of a child who suffers from Asperger's. A must read for a wide variety of interests. Mockingbird appeals to all age ranges and is a lovely, compelling read.
— From
Lane's Picks
Summer 2010 Kids' Next List
---
"Mockingbird tells of Caitlin, an 11-year-old girl living with Asperger's syndrome. Erskine offers a remarkable window into the world of an autistic child. Readers will gain both understanding and empathy. We think of heroes as those who save the lives of others. Often, real heroes simply live out their own lives. This is a memorable and moving book."
— Christopher Rose, Andover Bookstore, Andover, MA
Description
---
THE NATIONAL BOOK AWARD WINNER and ONE OF THE MOST IMPORTANT NOVELS OF OUR TIME FOR YOUNG READERS

Caitlin has Asperger's. The world according to her is black and white; anything in between is confusing. Before, when things got confusing, Caitlin went to her older brother, Devon, for help. But Devon was killed in a school shooting, and Caitlin's dad is so distraught that he is just not helpful. Caitlin wants everything to go back to the way things were, but she doesn't know how to do that. Then she comes across the word closure--and she realizes this is what she needs. And in her search for it, Caitlin discovers that the world may not be so black and white after all.

"Powerful."--Publishers Weekly

"A strong and complex character study."--The Horn Book

"Allusions to Harper Lee's To Kill a Mockingbird, the portrayal of a whole community's healing process, and the sharp insights into Caitlyn's behavior enhance this fine addition to the recent group of books with narrators with autism and Asbergers."--Booklist
About the Author
---
Kathryn Erskine spent many years as a lawyer before realizing that she'd rather write things that people might actually enjoy reading. She grew up mostly overseas and attended eight different schools, her favorite being the Hogwarts-type castle in Scotland. The faculty, of course, did not consist of wizards, although . . . how did the headmistress know that it was "the wee redhead" who led the campaign to free the mice from the biology lab? Erskine draws on her childhood—and her second childhood through her children—for her stories. She still loves to travel but nowadays most trips tend to be local, such as basketball and tennis courts, occasional emergency room visits, and the natural food store for very healthy organic chocolate with "life saving" flavonoids.
Praise For…
---
"A valuable book." -School Library Journal

"A strong and complex character study." -The Horn Book