Tinker, Tailor, Soldier, Spy: A George Smiley Novel (Paperback)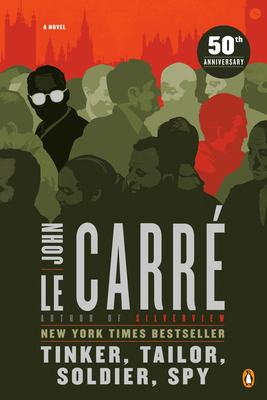 $19.00

Not in Stock... Available to ship in 3-5 days
Description
---
From the New York Times bestselling author of A Legacy of Spies. 

The man he knew as "Control" is dead, and the young Turks who forced him out now run the Circus. But George Smiley isn't quite ready for retirement—especially when a pretty, would-be defector surfaces with a shocking accusation: a Soviet mole has penetrated the highest level of British Intelligence. Relying only on his wits and a small, loyal cadre, Smiley recognizes the hand of Karla—his Moscow Centre nemesis—and sets a trap to catch the traitor.
 
The Oscar-nominated feature film adaptation of Tinker Tailor Soldier Spy is directed by Tomas Alfredson (Let the Right One In) and features Gary Oldman as Smiley, Academy Award winner Colin Firth (The King's Speech), and Tom Hardy (Inception).
 
With an introduction by the author.
About the Author
---
JOHN LE CARRÉ was born in 1931. For six decades he wrote novels that came to define our age. The son of a confidence trickster, he spent his childhood between boarding school and the London underworld. At sixteen he found refuge at the university of Bern, then later at Oxford. A spell of teaching at Eton led him to a short career in British Intelligence, in MI5 and MI6. He published his debut novel, Call for the Dead, in 1961 while still a secret servant. His third novel, The Spy Who Came in from the Cold, secured him a worldwide reputation, which was consolidated by the acclaim for his trilogy Tinker Tailor Soldier Spy, The Honourable Schoolboy, and Smiley's People. At the end of the Cold War, le Carré widened his scope to explore an international landscape including the arms trade and the War on Terror. His memoir, The Pigeon Tunnel, was published in 2016 and the last George Smiley novel, A Legacy of Spies, appeared in 2017. Silverview is his twenty-sixth novel. John le Carré died on December 12, 2020.


Praise For…
---
"His masterpiece...the greatest spy novel ever written..." --NPR

"The premier spy novelist of his time. Perhaps of all time."—Time

"A rattling good novel."—San Francisco Chronicle

"John le Carré is the great master of the spy story…the constant flow of emotion lifts him not only above all modern suspense novelists, but above most novelists now practicing."—Financial Times

"Stunning."—Wall Street Journal

"Le Carré has never presented so much detail about the intelligence Establishment...and keeps one guessing right to the end " -- The New York Times

"A great thriller, the best le Carré has written" -- Spectator (London)
Coverage from NPR