No More Mean Girls: The Secret to Raising Strong, Confident, and Compassionate Girls (Paperback)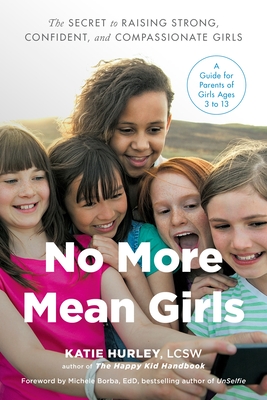 $18.00
Email or call for price
Description
---
In this Queen Bees and Wannabes for the elementary and middle school set, child and adolescent psychotherapist Katie Hurley shows parents of young girls how to nip mean girl behavior in the bud.

Once upon a time, mean girls primarily existed in high school, while elementary school-aged girls spent hours at play and enjoyed friendships without much drama. But in this fast-paced world in which young girls are exposed to negative behaviors on TV and social media from the moment they enter school, they are also becoming caught up in social hierarchies much earlier. No More Mean Girls is a guide for parents to help their young daughters navigate tricky territories such as friendship building, creating an authentic self, standing up for themselves and others, and expressing themselves in a healthy way.
     The need to be liked by others certainly isn't new, but this generation of girls is growing up in an age when the "like" button shows the world just how well-liked they are. When girls acknowledge that they possess positive traits that make them interesting, strong, and likeable, however, the focus shifts and their self-confidence soars; "likes" lose their importance. This book offers actionable steps to help parents empower young girls to be kind, confident leaders who work together and build each other up.
About the Author
---
Katie Hurley, LCSW, is a child and adolescent psychotherapist, parenting expert, and writer. She is the founder of "Girls Can!" empowerment groups for girls between ages 5-11. Hurley is also the author of The Happy Kid Handbook, and her work can be found in The Washington Post, PBS Parents, and US News and World Report, among other places. She practices psychotherapy in the South Bay area of Los Angeles and earned her BA in psychology and women's studies from Boston College and her MSW from the University of Pennsylvania. She splits her time between Los Angeles, California and coastal Connecticut with her husband and two children.
Praise For…
---
"A veritable treasure chest of ways to help you help girls learn to love themselves, realize their talents, get along and empathize with others, find their inner courage, and lead more successful and fulfilled lives. The fact is, this may well be the only book you will need to raise great girls."
—from the foreword by Michele Borba, EdD, bestselling author of Unselfie and The Big Book of Parenting Solutions

"Far too many girls, suffering serious stressors and societal pressures at an early age, are struggling with self-esteem and are cruel to one another. Hurley immerses herself in this complex world and sheds critical light on how we can do the vital work of raising girls who are sturdier, kinder, and more able to thrive. Her guidance is wise, practical, and concrete."
—Richard Weissbourd, senior lecturer and faculty director, Making Caring Common, Harvard Graduate School of Education

"Katie Hurley's No More Mean Girls will be an oft-referenced book on my shelf because Hurley's expertise goes beyond the academic. She has real, practical experience working with girls, and their words are one of the most valuable parts of this book. Hurley's practical advice is a boon to any parent who hopes to ease a daughter through the challenging terrain of childhood and adolescence, particularly when that childhood is lived in the harsh spotlight of social media."
—Jessica Lahey, New York Times bestselling author of The Gift of Failure

"Katie Hurley does the impossible—she takes the mystery and angst out of parenting a teen girl by thoughtfully illuminating her thoughts and experiences. With practical language and relatable anecdotes, Katie offers real compassion for the parent and teen that covers tough subjects, common stressors, and points of conflict. I hope this book reaches the hands of every parent, teacher, coach, mentor, and individual who plays a role in helping girls grow and thrive in today's world." 
—Rachel Macy Stafford, New York Times bestselling author of Hands Free Mama, Hands Free Life, and Only Love Today 

"Now more than ever, young girls need to learn to stand tall and stick together. Katie Hurley's No More Mean Girls provides a blueprint for parents and educators to raise confident and compassionate leaders in a modern world."
—Idina Menzel, Tony Award-winning actress and singer 

"The landscape of girlhood is constantly changing, and even the youngest girls are tasked with learning how to navigate tricky social situations and emotional upheaval. No More Mean Girls provides practical, research-based tips for raising strong, confident, and compassionate girls. A must-read for parents and educators!"
—Amy McCready, author of The "Me, Me, Me" Epidemic

"No More Mean Girls provides a practical road map for guiding girls through the challenges of growing up so that they become the compassionate leaders so needed in this world. An essential handbook for parents, teachers, counselors, and anyone who is fortunate enough to contribute to the raising of our precious daughters."
—Susan Stiffelman, MFT, author of Parenting with Presence and Parenting Without Power Struggles 

"As a parenting author, mother of a daughter, and survivor of the mean girl scene myself, I found this book so insightful, helpful, and enlightening."
—Jessica Joelle Alexander, coauthor of The Danish Way of Parenting

"Hurley's user-friendly layout and compassionate advice ensure that her book will be a useful workbook not just for parents, but also for youth counselors, teachers, and other caregivers."
—Publisher's Weekly

"Hurley pairs insightful and instructive discussion of the social battles young girls face with the tools families need to help tackle them successfully. This is a helpful guide for raising strong, assertive, socially intuitive young women."
—Booklist