Sister Bernadette's Barking Dog: The Quirky History and Lost Art of Diagramming Sentences (Paperback)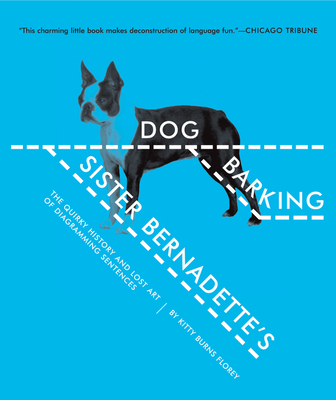 $15.99

Not in Stock... Available to ship in 3-5 days
Description
---
A delightfully offbeat history of the art and science of sentence diagramming by a veteran copyeditor and writer. Grumpy grammarians, crossword-puzzle aficionados, and lovers of language will appreciate this book.

In its heyday, sentence diagramming was wildly popular in grammar schools across the country. Kitty Burns Florey learned the method in sixth grade from Sister Bernadette: "It was a bit like art, a bit like mathematics. It was a picture of language. I was hooked."

Florey explores the sentence-diagramming phenomenon, including its humble roots at the Brooklyn Polytechnic, its "balloon diagram" predecessor, and what diagrams of famous writers' sentences reveal about them. Along the way, Florey offers up her own commonsense approach to learning and using good grammar. Charming, fun, and instructive, Sister Bernadette's Barking Dog will be treasured by all kinds of readers.
About the Author
---
KITTY BURNS FLOREY, a veteran copyeditor, is the author of nine novels and many short stories and essays. A longtime Brooklyn resident, she now divides her time between central Connecticut and upstate New York with her husband, Ron Savage.
Praise For…
---
PRAISE FOR SISTER BERNADETTE'S BARKING DOG

"Florey writes with verve about the nuns who taught her to render the English language as a mess of slanted lines, explains how diagrams work, and traces the bizarre history of the men who invented this odd pedagogical tool . . . It's a great read."--Slate



"This gem from copyeditor Florey is a bracing ode to grammar: it's laced with a survivor's nostalgia for classrooms ruled by knuckle-cracking nuns who knew their participles."—People —