The Political Science of the Middle East: Theory and Research Since the Arab Uprisings (Paperback)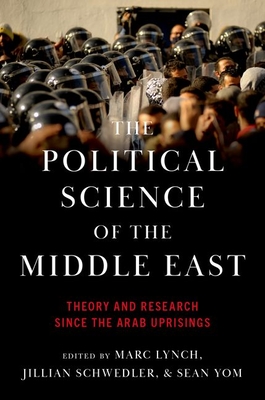 Description
---
A definitive overview of what political scientists are working on within the Middle East and North Africa. The Arab Uprisings of 2011-12 catalyzed a new wave of rigorous, deeply informed research on the politics of the Middle East and North Africa (MENA). In The Political Science of the Middle East, Marc Lynch, Jillian Schwedler, and Sean Yom present the definitive overview of this pathbreaking turn. This is a monumental stocktaking organized around a singular theme: new theorizing from the MENA has advanced the frontiers of comparative politics and international relations, and the close-range study of the region occupies a core place in mainstream political science. Its dozen chapters cover an exhaustive array of topics, including authoritarianism and democracy, contentious politics, regional security, military institutions, conflict and violence, the political economy of development, Islamist movements, identity and sectarianism, public opinion, migration, and local politics. For each of these topics, leading MENA experts and specialists highlight innovative concepts, vibrant debates,
diverse methodologies, and unexpected findings. The result is an indispensable research primer, one that stands as a generational statement from a regional subfield.

About the Author
---
Marc Lynch is Professor of Political Science and Director of the Middle East Studies Program at The George Washington University. He is the founding director of the Project on Middle East Political Science and Associate Editor of The Monkey Cage. He received his PhD from Cornell University and his BA from Duke University. Jillian Schwedler is Professor of Political Science at the City University of New York's Hunter College and the Graduate Center. She is Senior Fellow at the Crown Center for the Middle East at Brandeis University and co-founder and co-director (with Laryssa Chomiak) of the Sidi Bou Said School of Critical Protest Studies. She received her PhD, MA, and BA from New York University. Sean Yom is Associate Professor of Political Science at Temple University. His research interests include the study of regimes and governance in the Middle East, with a special focus on authoritarianism, the political economy of development, and US foreign policy. He earned his PhD from Harvard University and AB from Brown University.