Illumination And Night Glare: The Unfinished Autobiography Of Carson Mccullers (Wisconsin Studies in Autobiography) (Paperback)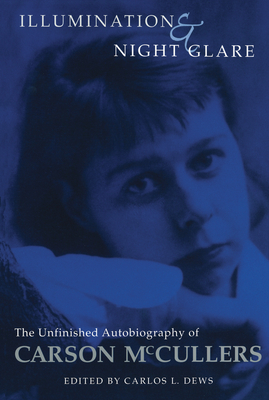 $21.95

Not in Stock... Available to ship in 3-5 days​
Description
---
More than thirty years after it was written, the autobiography of Carson McCullers, Illumination and Night Glare, will be published for the first time. McCullers, one of the most gifted writers of her generation—the author of Member of the Wedding, Reflections in a Golden Eye, and The Ballad of Sad Cafe—died of a stroke at the age of fifty before finishing this, her last manuscript. Editor Carlos L. Dews has faithfully brought her story back to life, complete with never-before-published letters between McCullers and her husband Reeves, and an outline of her most famous novel, The Heart Is a Lonely Hunter.

Looking back over her life from a precocious childhood in Georgia to her painful decline from a series of crippling strokes, McCullers offers poignant and unabashed remembrances of her early writing success, her family attachments, a troubled marriage to a failed writer, and friendships with literary and film luminaries (Gypsy Rose Lee, Richard Wright, Isak Dinesen, John Huston, Marilyn Monroe), and the intense relationships of the important women in her life.
About the Author
---
Carlos L. Dewsis associate professor and chair of the department of English and foreign languages at the University of West Florida. He is the founding president of the Carson McCullers Society and editor of the Library of America's Carson McCullers: Complete Novels.
Praise For…
---
"Illumination and Night Glare is an extraordinary document.  Dictated in an idiomatic, associative style, it exposes the doubleness of [Carson] McCullers's life. . . . A rich mine of information for anyone interested in McCullers, and American literary life in the 1950s, these memoirs are also a testament to the courage and sheer love of life of their author."—Richard Gray, Times Literary Supplement


"Though described as an 'autobiography,' [Illumination and Night Glare] is rather more of an informal, unselfconscious memoir organized on the principle of association of ideas, not by chronology or theme; it's touching, conversational, inevitably disjointed. . . . One can see why an editor would want to present the attenuated manuscript for publication, for it is all that remains of the unpublished work."—Joyce Carol Oates, London Review of Books


"The mundane circumstances of [McCullers's] epiphanies—pacing on her living room rug or going on a brisk walk after a Thanksgiving meal—take on an otherworldly wonder in her hands. . . . McCullers's memoir is a testament to her struggle to write 'in sickness or in health.'"—Catherine Saint Louis, New York Times Book Review


"[Illumination and Night Glare] reveals the woman Gore Vidal once described as a 'vain, querulous . . . genius,' but it also gives evidence of the indomitable spirit that commanded the enduring friendship of Tennessee Williams, John Huston, Edith Sitwell, et al. . . . The volume will be must reading for all students, scholars, and aficionados of McCullers."—Choice