Devotion (Why I Write) (Paperback)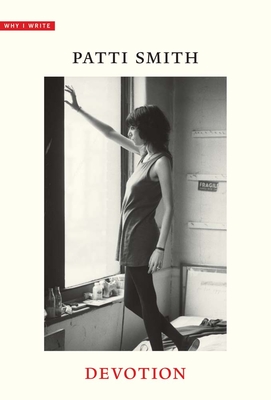 Description
---
"Devotion is short enough to devour at one enjoyable sitting and thought-provoking enough to deserve re-reading."—Suzi Feay, Financial Times
 
"Devotion shows rather than tells what it means to give a life to writing. "—Katherine Cooper, Hyperallergic

A work of creative brilliance may seem like magic—its source a mystery, its impact unexpectedly stirring. How does an artist accomplish such an achievement, connecting deeply with an audience never met? In this groundbreaking book, one of our culture's beloved artists offers a detailed account of her own creative process, inspirations, and unexpected connections.
 
Patti Smith, a National Book Award–winning author, first presents an original and beautifully crafted tale of obsession—a young skater who lives for her art, a possessive collector who ruthlessly seeks his prize, a relationship forged of need both craven and exalted. She then takes us on a second journey, exploring the sources of her story. We travel through the South of France to Camus's house, and visit the garden of the great publisher Gallimard where the ghosts of Mishima, Nabokov, and Genet mingle. Smith tracks down Simone Weil's grave in a lonely cemetery, hours from London, and winds through the nameless Paris streets of Patrick Modiano's novels. Whether writing in a café or a train, Smith generously opens her notebooks and lets us glimpse the alchemy of her art and craft in this arresting and original book on writing.
 
The Why I Write series is based on the Windham–Campbell Lectures, delivered annually to commemorate the awarding of the Donald Windham–Sandy M. Campbell Literature Prizes at Yale University.
About the Author
---
Patti Smith is a writer, performer, and visual artist. Her memoir Just Kids received a National Book Award, and her book M Train is a critically acclaimed New York Times best seller. Smith was awarded the prestigious title of Commandeur des Arts et des Lettres by the French Republic, and in 2007 she was inducted into the Rock and Roll Hall of Fame. Smith lives in New York City.
Praise For…
---
"Devotion is short enough to devour at one enjoyable sitting and thought-provoking enough to deserve re-reading. . . . It's a privilege to spend any time with Patti Smith, however brief."—Suzi Feay, Financial Times

"A triptych of compact, heartfelt essays on discovery, solitude and writing."—Darragh McManus, Irish Independent

"By turns allegorical, metaphysical, fictional and factual, Devotion shows rather than tells what it means to give a life to writing. A master of poetic innovation, Smith takes her style to the next level in this slim volume."—Katherine Cooper, Hyperallergic

"Smith, a contemplative writer of gratitude and reverence, . . . deepens her inquiry into the nature of inspiration in this slender, trenchant volume. . . . Gracefully improvisational, as always, Smith offers an unusually poetic, mystical, and transfixing perspective on the mystery of literary creation."—Donna Seaman, Booklist

"The lesson is obvious: that a writer draws on every detail of his or her life for the alchemical, often unconscious process of creation. But seeing the process in action is a profound experience. Smith's writing in the essays is as beautifully structured as her poetry."—Publishers Weekly

"Smith is telling it her way, but also in the ancient way. It's recognizable to readers for its mythic proportion, accessible to all kinds of people for its brevity and intensity—and yet, it's still distinctly Patti Smith."—Megan Volpert, PopMatters

"This is what is so astonishing about [Smith's] career and what motivates Devotion—the way that, as she has gotten older, Smith's vision has expanded, framing her self-awareness not as self-absorption but rather a deep dive into everything, the exhilaration and the terror and the transcendence that we all share."—David Ulin, Barnes & Noble Review

"A creative, graceful and uncommonly beautiful little book about writing from the poet and singer who has, in maturity, become an even richer and more complex artist than she was at her greatest fame. She has become one of the most compelling writers of prose that we have and one of the most arresting about artists and other writers. Follow her here as she deals with Camus, Nabokov, Mishima, Genet, Simone Weil, and Patrick Modiano. Originally delivered as a series of lectures at Yale and artfully illustrated for this edition, this, in book form, is as exquisite as anything published in this season. In her late-life self discovery as a prose master, Patti Smith may have found yet another masterful voice."—Jeff Simon, Buffalo News

"Packed with enough passion and contagious energy to move readers to tune into their own inspirations and—whatever their medium—get to work."—Kelsey J. Waite, AV Club

"In Devotion, [Smith] starkly shares and uncovers, through a spare, haunting prose, the reasons she is compelled to write; so evocative is Smith's writing that we're compelled to read it as her voices transfixes us with its bell-like clarity and ringing passion."—Henry Carrigan, No Depression: The Journal of Roots Music

"An enchanting peek into the mysterious ways of creativity, as Smith immerses in her beloved French literary classics and cites the everyday encounters that can spark inspiration."—Brian McCollum, Detroit Free Press

"This is what Smith does to her devoted readers—she provokes memory, isolation, and the desire to make something out of the mundane. . . . Devotion, though a departure from her previous books, does not deviate from Smith's remarkable gift."—Jerilyn Jordan, Detroit Metro Times

"Through her lyrical and mystical style, Smith gracefully shares her perspective on the mystery of literary creation."—New York Spaces