Sing a Black Girl's Song: The Unpublished Work of Ntozake Shange (Hardcover)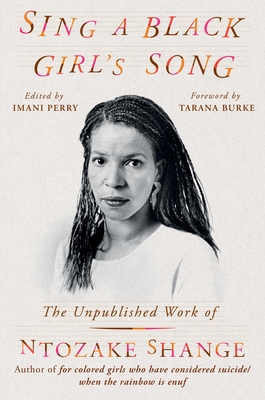 Description
---
GMA's 15 Spectacular New Books to Read in September 
Ms. Magazine's September 2023 Reads for the Rest of Us
The Millions "Most Anticipated" Books of 2023
LitHub's Most Anticipated Books of 2023

Never-before-seen unpublished works by award-winning American literary icon Ntozake Shange, featuring essays, plays, and poems from the archives of the seminal Black feminist writer who stands alongside giants like Toni Morrison and Alice Walker, curated by National Book Award winner Imani Perry with a foreword by New York Times bestselling author Tarana Burke.
 
            In the late '60s, Ntozake Shange was a student at Barnard College discovering her budding talent as a writer, publishing in her school's literary journal, and finding her unique voice. By the time she left us in 2018,  Shange had scorched blazing trails across countless pages and stages, redefining genre and form as we know them, each verse, dance, and song a love letter to Black women and girls, and the community at large.
            Sing a Black Girl's Song is a new posthumous collection of Shange's unpublished poems, essays, and plays from throughout the life of the seminal Black feminist writer. In these pages we meet young Shange, learn the moments that inspired for colored girls who have considered suicide/when the rainbow is enuf…, travel with an eclectic family of musicians, sit on "The Couch" opposite Shange's therapist, and discover plays written after for colored girls' international success. Sing a Black Girl's Song houses, in their original form, the literary rebel's politically charged verses from the Black Arts Movement era alongside her signature tender rhythm and cadence  that capture the minutia and nuance of Black life. Sing a Black Girl's Song is the continuation of a literary tradition that has bolstered generations of writers and a long-lasting gift from one of the fiercest and most highly celebrated artists of our time.   
 
About the Author
---
Ntozake Shange, author of thirty-six published works, is increasingly recognized as one of America's greatest writers having, for fifty years, embodied the struggle of women of color for equality and the recognition of their contribution to human culture. Shange's literary legacy, preserved in the Shange Institute at Barnard College, comprises thirteen plays, seven novels, six children's books and nineteen poetry collections, the majority of which are published and in print. Her 1974 "choreo-poem," for colored girls who have considered suicide/ when the rainbow Is enuf, retains its status as the longest-running play by an African American writer in Broadway history. The 2022 Broadway revival of for colored girls garnered seven TONY Award nominations. She has been posthumously inducted into both the NY State Writers and the Off-Broadway Alliance Halls of Fame, cementing her legacy as one of the most cherished Black feminist writers of our time.
 
Imani Perry (Editor) is the Carol K. Pforzheimer professor at Harvard Radcliffe Institute and professor of African American studies and women and gender studies at Harvard University. She is a 2023 MacArthur Foundation Fellow and the author of seven books, including South to America, winner of the 2022 National Book Award. She is a recipient of the Lambda Literary Award and the Hurston Wright Award, and was a finalist for an NAACP Image Award, among others. She has written for The New York Times; TheAtlantic; Harpers; O, the Oprah Magazine; New York Magazine; and The Paris Review. Perry earned her PhD in American studies from Harvard University, a JD from Harvard Law School, an LLM from Georgetown University Law Center, and a BA from Yale College in literature and American studies.Tarana J. Burke (Foreword), for more than 25 years as activist, advocate, and author, has worked at the intersection of sexual violence and racial justice. Fueled by commitments to interrupt sexual violence and other systemic inequalities disproportionately impacting marginalized people, particularly Black women and girls, Tarana has created and led various campaigns focused on increasing access to resources and support for impacted communities, including the 'me too.' Movement, which has galvanized millions of survivors and allies around the world, and the me too. International nonprofit organization, founded in 2018. Her New York Times bestselling books You Are Your Best Thing and Unbound have illuminated the power of healing, vulnerability, and storytelling in the movement to end sexual violence. 
 
Praise For…
---
"Previously unseen writing from an essential Black author. . . Those acquainted with the author will see familiar themes emerge as she engages with colonialism, code switching, white supremacy, liberation politics, sexism, sexual violence, and collective trauma. She writes of desire and despair and revolution and Black joy using language and imagery that she was taught to hide from white people. . . Shange speaks candidly of her struggles with mental health and her years in psychoanalysis, and she insists that therapy made her a better writer. . . The literary value of these works extends far beyond the insight they offer into Shange's life and artistic career."—Kirkus (Starred Review)

"As a playwright, poet, and sometimes essayist, Shange worked at the intersection of Black liberation and radical feminism… [T]he work of artists like Shange must be preserved and celebrated. This posthumous collection of essays, poems, and plays—many being published for the first time—does just that."—Lit Hub

"Even posthumously, Shange's unique voice is more relevant than ever. Her lyrical way of telling stories imbues these revived essays, plays, and poems with a vitality that consistently centers Black women and girls and goes toe-to-toe with white supremacy, sexism, and colonialism. Perfect for longtime fans and newcomers to her radically experimental body of work, Sing a Black Girl's Song gives readers a deeper understanding of how this literary icon created her signature style."—BUST

"From a poem published in her high school newspaper to her groundbreaking choreopoems to moving critical essays—all previously unpublished—this volume showcases the genius of Shange: her breadth, depth, wisdom and love."—Ms. Magazine

"What a fabulous treasure trove of insights into Ntozake Shange's soul… this book provides an intoxicating slice of life to make anyone a lifelong fan… Beautiful. Just like her."—Good Morning America

"Raw, illuminating and revelatory, Ntozake's Shange's bold and lyrical writing gave urgent voice to a new generation of young Black writers like myself who were emboldened by the honesty and beauty of her poetry, plays, and prose to tell our own stories."—Lynn Nottage, Pulitzer Prize winning playwright

"With Sing A Black Girl's Song, Imani Perry offers intimacy with Ntozake Shange as a peerless, prolific writer in process. Here is a brilliant multi-genre gathering from Shange's archive that maps her political and creative maturation on her quest for self-actualization as a Black woman in America participating in transnational Black liberation movements. Brimming with lyrical incandescence, sensuality and self-regard, Shange urges us to "keep an eye" on ourselves, documenting not only what is happening to us, but within us and through us individually and collectively."—Erika Dickerson-Despenza, playwright and Inaugural Resident of the Ntozake Shange Social Justice Playwriting Residency