Senlin Ascends (The Books of Babel #1) (Paperback)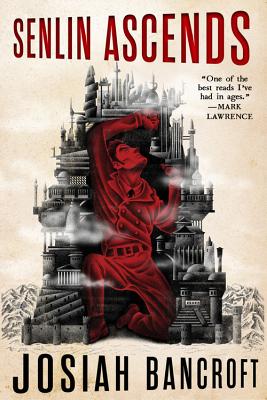 Other Books in Series
This is book number 1 in the The Books of Babel series.
Staff Reviews
---
Thrust into an adventure of a lifetime, hapless hero Thomas Senlin must enter a world of curiosities and wonder, betrayal and murder to find his last bride. The world building in Senlin Ascends is next level good. Get ready for a great read!
— From
Claire's Picks
Description
---
The first book in the word-of-mouth phenomenon debut fantasy series about one man's dangerous journey through a labyrinthine world.

"One of my favorite books of all time" -- Mark Lawrence

The Tower of Babel is the greatest marvel in the world. Immense as a mountain, the ancient Tower holds unnumbered ringdoms, warring and peaceful, stacked one on the other like the layers of a cake. It is a world of geniuses and tyrants, of luxury and menace, of unusual animals and mysterious machines.

Soon after arriving for his honeymoon at the Tower, the mild-mannered headmaster of a small village school, Thomas Senlin, gets separated from his wife, Marya, in the overwhelming swarm of tourists, residents, and miscreants.

Senlin is determined to find Marya, but to do so he'll have to navigate madhouses, ballrooms, and burlesque theaters. He must survive betrayal, assassins, and the illusions of the Tower. But if he hopes to find his wife, he will have to do more than just endure.

This quiet man of letters must become a man of action.
About the Author
---
Josiah Bancroft started writing novels when he was twelve, and by the time he finished his first, he was an addict. Eventually, the writing of Senlin Ascends began, a fantasy adventure, not so unlike the stories that got him addicted to words in the first place.

He wanted to do for others what his favorite writers had done for him: namely, to pick them up and to carry them to a wonderful and perilous world that is spinning very fast. If he's done that with this book, then he's happy.

Josiah lives in Philadelphia with his wife, Sharon, their daughter Maddie, and their two rabbits, Mabel and Chaplin.
Praise For…
---
"It's rare to find a modern book that feels like a timeless classic. I'm wildly in love with this book."—Pierce Brown, author of Red Rising and Iron Gold

"Josiah Bancroft is a magician. His books are that rare alchemy: gracefully written, deliriously imaginative, action-packed, warm, witty, and thought-provoking. I can't wait for more."—Madeline Miller, New York Times bestselling author of Circe

"Senlin Ascends is one of the best reads I've had in ages . . . I was dragged in and didn't escape until I'd finished two or three days later."—Mark Lawrence, author of Prince of Thorns

"Wonderfully unique and superbly well written. I loved every page."—Nicholas Eames, author of Kings of the Wyld

"The "Books of Babel" are something you hope to see perhaps once a decade - future classics, which may be remembered long after the series concludes."—Los Angeles Times on The Hod King

"Senlin is a man worth rooting for, and his strengthening resolve and character is as marvelous and sprawling as the tower he climbs."—The Washington Post

"What is remarkable about this novel, quite apart from its rich, allusive prose, is Bancroft's portrayal of Senlin, a good man in a desperate situation, and the way he changes in response to his experiences in his ascent."—The Guardian

"Senlin Ascends crosses the everyday strangeness and lyrical prose of Borges and Gogol with all the action and adventure of high fantasy. I loved it, and grabbed the next one as soon as I turned the last page."—Django Wexler, author of The Thousand Names

"With deceptive simplicity Bancroft brings this gothic place and its denizens to a colourful life...I loved it!"—Adrian Selby, author of Snakewood

"Senlin Ascends is an adventure rife with character, voice and beauty-a well-polished knife drawn out slowly."—Sam Sykes, author of The City Stained Red

"Senlin Ascends is a unique masterpiece. A brilliant debut. Highly recommended!"—Michael R. Fletcher, author of Beyond Redemption

"Ticks along with the tight precision and artistry of a well-wound watch."—Kirkus

"This is fantasy storytelling of a high order."—The Toronto Star

"More than deserving of advance buzz and initial self-published success, Josiah Bancroft's Senlin Ascends is an early contender for year-end best lists, and a towering achievement in weird fantasy."—B&N Sci-Fi & Fantasy Blog

"Brilliant debut fantasy . . . This novel goes off like a firework and suggests even greater things in the author's future."—Publishers Weekly, starred review

"This is an exceedingly rich book. A depth of imagination married with a poetic turn of phrase and an engaging cast of characters conspire to deliver an epic story soaring high above the clouds."—Fantasy Faction

"Like a blend of Kafka's The Castle and Mervyn Peake's Gormenghast, Josiah Bancroft's ambitious first chapter in his The Books of Babel series is an impressive display of imagination and humor."—SciFiNow