Meg, Jo, Beth, and Amy: A Modern Graphic Retelling of Little Women (Classic Graphic Remix) (Paperback)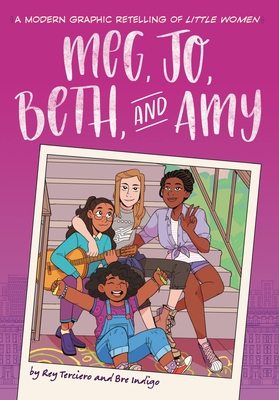 $12.99

Not in Stock... Available to ship in 3-5 days
Description
---
Little Women with a twist: four sisters from a blended family experience the challenges and triumphs of life in NYC in this beautiful full-color graphic novel perfect for fans of Roller Girl and Smile.

Meg, Jo, Beth, and Amy are having a really tough year: with their father serving in the military overseas, they must work overtime to make ends meet...and each girl is struggling in her own way. Whether it's school woes, health issues, boy troubles, or simply feeling lost, the March sisters all need the same thing: support from each other. Only by coming together--and sharing lots of laughs and tears--will these four young women find the courage to discover who they truly are as individuals...and as a family.
Meg is the eldest March, and she has a taste for the finer things in life. She dreams of marrying rich, enjoying fabulous clothes and parties, and leaving her five-floor walk-up apartment behind.
Jo pushes her siblings to be true to themselves, yet feels like no one will accept her for who she truly is. Her passion for writing gives her an outlet to feel worthy in the eyes of her friends and family.
Beth is the shy sister with a voice begging to be heard. But with a guitar in hand, she finds a courage that inspires her siblings to seize the day and not take life for granted.
Amy may be the baby of the family, but she has the biggest personality. Though she loves to fight with her sisters, her tough exterior protects a vulnerable heart that worries about her family's future.
About the Author
---
Rey Terciero, also known as Rex Ogle, has written and edited hundreds of books and comics for children and young adults. He is a queer writer who has always been drawn to strong female protagonists, including Elizabeth Bennet, Princess Leia, Jean Grey, and Hermione Granger. Meg, Jo, Beth and Amy is his debut graphic novel.

Bre Indigo is a lover of astronomy, salmon sashimi, and open minds. She tells stories of gentle boys, tough girls, and those in between with a focus on tolerance and the many faces of love. Meg, Jo, Beth, and Amy is Bre's debut graphic novel.
Praise For…
---
"[...] this tale offers a contemporary vision of sisterhood that will appeal to a diverse audience."—Kirkus

"Smart and thoughtfully rendered, this modern retelling will resonate with today's readers."—Publishers Weekly