COVID-19
Weller Book Works is closed to the public. But Catherine and Tony are working behind closed doors to keep the store ready to open when we're able.
We're still taking and filling orders via this website for new books or Biblio for used and rare books. At this time we can offer curbside pick-up or shipping only.
We are unable to consider used book offers until after we re-open to the public.
The Dream Cycle of H. P. Lovecraft: Dreams of Terror and Death (Paperback)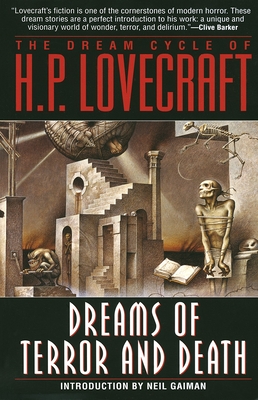 Description
---
"[Lovecraft's] dream fantasy works are as terrifying and haunting as his tales of horror and the macabre. A master craftsman, Lovecraft brings compelling visions of nightmarish fear, invisible worlds and the demons of the unconscious. If one author truly represents the very best in American literary horror, it is H. P. Lovecraft."—John Carpenter, Director of At the Mouth of Madness, Halloween, and Christine

With an introduction by Neil Gaiman

This volume collects, for the first time, the entire Dream Cycle created by H. P. Lovecraft, the master of twentieth-century horror, including some of his most fantastic tales:

The Doom That Came to Sarnath—Hate, genocide, and a deadly curse consume the land of Mnar.
The Statment of Randolph Carter—"You fool, Warren is DEAD!"
The Nameless City—Death lies beneath the shifting sands, in a story linking the Dream Cycle with the legendary Cthulhu Mythos.
The Cats of Ulthar—In Ulthar, no man may kill a cat...and woe unto any who tries.
The Dream Quest of Unknown Kadath—The epic nightmare adventure with tendrils stretching throughout the entire Dream Cycle.

And twenty more tales of surreal terror!
About the Author
---
Almost completely ignored by the mainstream press during his lifetime, H. P. Lovecraft has since come to be recognized as one of the greatest writers of classic horror, on a par with Edgar Allan Poe, Lovecraft's mentor. H. P. Lovecraft's work has been translated into more than a dozen languages, his tales adapted for film, television, and comic books, and he has been the subject of more scholarly study than any other writer of horror fiction save Poe.

Neil Gaiman used to be a journalist, but gave it all up to write comics, which he claims are a totally valid late-twentieth-century art form, and he's even won awards for them, so that's all right. He's 5'11" tall, owns a number of black T-shirts, and although he's not overly keen on banana daiquiris, is always very flattered when appreciative fans send him money (he's read Terry Pratchett's biography, and, although he doubts that this will have any effect, figures what the hell).