The Elenium: The Diamond Throne The Ruby Knight The Sapphire Rose (Paperback)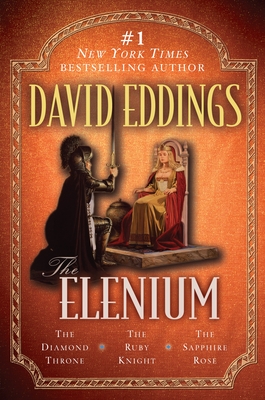 $22.00

Not in Stock... Available to ship in 3-5 days
Description
---
Now for the first time in one thrilling volume–the three magical novels that make up David Eddings's epic fantasy The Elenium.

In an ancient kingdom, the legacy of one royal family hangs in the balance, and the fate of a queen—and her empire—lies on the shoulders of one knight.

Sparhawk, Knight and Queen's Champion, has returned to Elenia after ten years of exile, only to find young Queen Ehlana trapped in a crystalline cocoon. The enchantments of the sorceress Sephrenia have kept the queen alive–but the spell is fading. In the meantime, Elenia is ruled by a prince regent, the puppet of the tyrannical Annias, who vows to seize power over all the land.

Now Sparhawk must find the legendary Bhelliom, a sapphire that holds the key to Ehlana's cure. Sparhawk and his companions will face monstrous foes and evil creatures on their journey, but even greater dangers lie in wait: for dark legions will stop at nothing to reach the radiant stone, which may possess powers too deadly for any mortal to bear.
About the Author
---
David Eddings (1931-2009) published his first novel, High Hunt, in 1973, before turning to the field of fantasy with the Belgariad, soon followed by the Malloreon. Born in Spokane, Washington, and raised in the Puget Sound area north of Seattle, he received his bachelor of arts degree from Reed College in Portland, Oregon, in 1954, and a master of arts degree from the University of Washington in 1961. He served in the US Army, worked as a buyer for the Boeing Company, and was both a grocery clerk and a college English teacher. He lived in Nevada until his death, at the age of 77.