Updated Covid Information
Weller Book Works wants you to stay healthy.
For the health of our customers and staff,
WBW is continuing to require face masks or respirators in our store.
Disposable face masks are available if you do not have one.
Curbside pick-up and shipping services are available.
Staffing Shortfall
Dear Booklovers,
We will be CLOSED for in-person visits Sunday, January 23, 2022 due to a staffing shortfall.
You may still order books on this website for fulfillment Monday.
Please visit us again.
Light For The World To See: A Thousand Words on Race and Hope (Hardcover)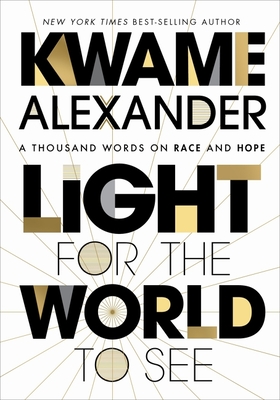 Description
---
From NPR correspondent and New York Times bestselling author, Kwame Alexander, comes a powerful and provocative collection of poems that cut to the heart of the entrenched racism and oppression in America and eloquently explores ongoing events.   A book in the tradition of James Baldwin's "A Report from Occupied Territory,"  Light for the World to See is a rap session on race. A lyrical response to the struggles of Black lives in our world . . . to America's crisis of conscience . . . to the centuries of loss, endless resilience, and unstoppable hope.   Includes an introduction by the author and a bold, graphically designed interior.
About the Author
---
Kwame Alexander is a poet, educator, and the New York Times best-selling author of more than thirty-five books, including Rebound, the follow-up to his Newbery medal–winning middle grade novel, The Crossover. Some of his other works include Booked, which was longlisted for the National Book Award, The Playbook: 52 Rules to Help You Aim, Shoot, and Score in this Game of Life, Swing, and the picture books Out of Wonder and The Undefeated, which was longlisted for the National Book Award and won the Caldecott Medal, a Newbery Honor, and the Coretta Scott King Illustrator Award.
He is a regular contributor to NPR's Morning Edition, currently serving as their poet ambassador.
He lives with his family in the UK. Visit his website at www.kwamealexander.com or find him on Twitter and Instagram @kwamealexander.
Praise For…
---
"The widely acclaimed author of nearly three dozen books for children, Alexander turns his poetic attention to three milestones in recent U.S. history: the murder of George Floyd by police officers in Minneapolis, the kneeling protests of Colin Kaepernick during the national anthem before NFL games, and the election of Barack Obama. Alexander works through these events in reverse chronological order, committing one long poem apiece to each of the three turning points. The poems are defined as much by their direct language and stark imagery ("we can't hold a gun / we can't stop that whip / we can't wear this skin") as by the highly stylized typography: much of the text appears on yellow banners against black backgrounds, mimicking police tape at crime scenes. Other pages include broken chains in grayscale and the American flag with its stars replaced by X's. One of the most powerful passages occurs when Alexander lists the names of Black individuals murdered by police and white vigilantes and stirs his readers to action. A brave intervention by a talented writer of conviction...Alexander's uniquely designed poems offer a useful entry point for conversations about racism in America."--Booklist "This collection poignantly captures the pain, rage, injustice, and resistance that mark this moment in American history."--School Library Journal