The Pragmatics of Text Messaging: Making Meaning in Messages (Routledge Research in Language and Communication) (Paperback)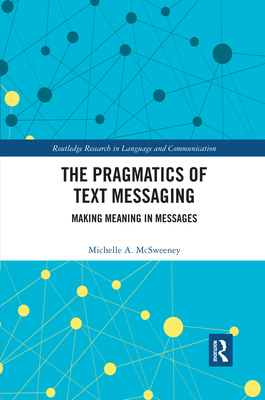 Description
---
This book provides a comprehensive linguistic exploration of textism use by bilingual young adults, illustrating the function of alternative and creative linguistic features and their role in conveying tone through text. Drawing on a corpus of nearly 45,000 text messages donated by bilingual young adults in New York City, this volume explores the ways in which the use of texting features such as 'lol, ' emojis, abbreviations, and acronyms is systematic and essential.
In part, toward the aim of exposing the tensions bilinguals face navigating a platform that preferences monolingual language practices, the book highlights creativity as a means of both constructing meaning and performing identity for bilingual youths. These findings are extended to explore the role texting plays in communication and identity construction in contemporary society more generally. This volume extends the boundaries of emerging research on language and digital communication, and will be of particular interest to graduate students and scholars in computer-mediated communication, pragmatics, and new media.
About the Author
---
Michelle A. McSweeney is a Research Scholar in the Center for Spatial Research at Columbia University. She completed her PhD in Linguistics in Interactive Technology and Pedagogy in 2016 at the Graduate Center at City University of New York. Her recent work focuses on digital writing in romantic relationships.