Lou Reed: The King of New York (Hardcover)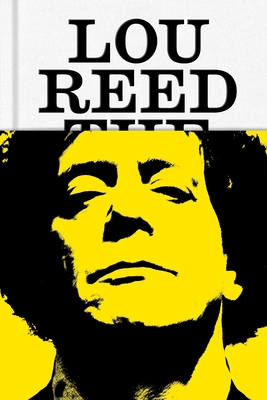 Description
---
"The only Lou Reed bio you need to read." —The Washington Post
One of Pitchfork's ten best music books of 2023 | A Kirkus Reviews best nonfiction book of 2023

"There have been many biographies of Lou Reed, but Will Hermes has written the definitive life . . . He has brought to the assignment a sharp eye, a clear head, a lucid prose style, and a determination to let Lou be Lou, without judgment." —Lucy Sante, author of Low Life

The most complete and penetrating biography of the rock master, whose stature grows every year.

Since his death ten years ago, Lou Reed's living presence has only grown. The great rock-poet presided over the marriage of Brill Building pop and the European avant-garde, and left American culture transfigured. In Lou Reed: The King of New York, Will Hermes offers the definitive narrative of Reed's life and legacy, dramatizing his long, brilliant, and contentious dialogue with fans, critics, fellow artists, and assorted habitués of the demimonde. We witness Reed's complex partnerships with David Bowie, Andy Warhol, John Cale, and Laurie Anderson; track the deadpan wit, street-smart edge, and poetic flights that defined his craft as a singer and songwriter with the Velvet Underground and beyond; and explore the artistic ambition and gift for self-sabotage he took from his mentor Delmore Schwartz.

As Hermes follows Reed from Lower East Side cold-water flats to the landmark status he later achieved, he also tells the story of New York City as a cultural capital. The first biographer to draw on the New York Public Library's much-publicized Reed archive, Hermes employs the library collections, the release of previously unheard recordings, and a wealth of recent interviews to give us a new Lou Reed—a pioneer in living and writing about nonbinary sexuality and gender identity, a committed artist who pursued beauty and noise with equal fervor, and a turbulent and sometimes truculent man whose emotional imprint endures.
About the Author
---
Will Hermes is a contributing editor at Rolling Stone, a longtime contributor to NPR's All Things Considered and The New York Times, and the author of Love Goes to Buildings on Fire. He also writes for Pitchfork and other publications, and was co-editor of SPIN: 20 Years of Alternative Music.
Praise For…
---
"The great virtue of Lou Reed: The King of New York, the new and very fine biography by Will Hermes, is that it's really two biographies . . . Hermes is masterful, recounting the various unlikely elements that came together [to form The Velvet Underground] . . . To Reed, Hermes brings his same unique blend of rhapsody and scholarly dispassion, of love and skepticism that defines the very best criticism. Plenty has been written about Reed, but only Hermes, to my mind, has gotten Reed's peculiar balance, of person and poseur, exactly right . . . This biography is as beautifully researched as it is written; thorough, smart, conscientious and an absolute delight to simmer in." —Stephen Metcalf, The Washington Post

"No matter how well you know the man and his music, there's so much more to him that's never been revealed until now. This book has the menace and allure of Reed's finest work—a fascinating, addictive, head-expanding rush into the unknown." —Rob Sheffield, Rolling Stone

"A compulsively readable and astonishingly well-researched book that's not just for Reed's fans, but for anyone interested in American cultural history. This is a biography with a real rock and roll heart." —Michael Schaub, NPR

"An irresistible plunge into one of the seminal rock figures of the '60s and '70s . . . [Readers are] going to inhale it. This is a total no-brainer." —Esquire

"The achievement of Will Hermes's book King of New York is, first, in how thoughtfully it contains Reed . . . [Hermes] keeps Reed's elusive pull anchored in a concrete understanding of the geographic container(s) in which he operated . . . Much like Reed in his songwriting, Hermes is exceptional at filling his narrative with a robust population of characters . . . Through Hermes's lens, Reed is complicated, flawed, and sometimes brutal—and not always forgiven for those flaws and brutalities. It is a work of grand affection, one that allows a person their failings, and one that knows that examining those failings alongside the grandest achievements is how one pays homage to a full life." —Hanif Abdurraqib, Bookforum

" A layered, nuanced biography . . . Like Reed as a songwriter, Hermes is savvy, empathetic, and, crucially, not afraid to deliver occasional indictments . . . Fans will likely devour many of these stories and want to live inside of them . . . A doorstop book that doesn't feel like homework . . . Reed's final years, marked by his marriage to Laurie Anderson, are among the most moving parts of the story, a model for how to age gracefully after growing up torrentially." —John Hendrickson, The Atlantic

"By the final page, Hermes has traced rock's trajectory from teenage talisman to corporate cash cow to something approaching monumentality: the soundtrack of what used to be called the American Century." —Jeremy Lybarger, The New Republic

"Lou Reed, Will Hermes' captivating new biography, fires on all cylinders: It's exhaustively researched and opinionated, with a swagger that evokes its volatile subject . . . Hermes writes with kinetic flair . . . [His] critical insights seam Reed's troubled, herky-jerky life into a lean narrative line . . . A scrupulous chronicle of a rock outlaw who sought an authentic self on stage." —Hamilton Cain, Minneapolis Star-Tribune

"Lou Reed: The King of New York follows Reed's complicated waltz from middle-class Long Island boy to downtown bohemian icon and, finally, worldwide rock star, laying on the concrete details while resisting the urge to present a unified theory . . . More than any previous biographer, Hermes allows a wide berth for the topics of sexuality, mental health, and addiction." —Nathan King, Air Mail

"Hermes shrewdly probes Reed's complex personal and professional life . . . Hermes' strength is in identifying and articulating the transformational brilliance of Reed's songwriting and performances within the context of the 1960s and '70s music scene. Reverent about his artistry, he's also discerningly cognizant of Reed's temperamental shortcomings . . . An engrossing, fully dimensional portrait of an influential yet elusive performer." —Kirkus Reviews (starred review)

"Hermes, a superb writer, does poetic justice to the complicated life of his difficult subject . . . [He] offers a fresh and deep immersion in Reed's world in all of its weird and wonderful, curmudgeonly glory . . . Powerful . . . [A] biographical magnum opus." —Booklist (starred review)

"There have been many biographies of Lou Reed, but Will Hermes has written the definitive life. He has probed into every corner, talked to people the others overlooked, dug up every last clipping and tape, but above all he has brought to the assignment a sharp eye, a clear head, a lucid prose style, and a determination to let Lou be Lou, without judgment." —Lucy Sante, author of Low Life

"As in his magisterial Love Goes to Buildings on Fire, Will Hermes again tracks the traces of time in New York City, but now focusing in on one pulse, the scorching light that was Lou Reed. He chronicles the past that made this artist and the future he helped call into being our own, especially the expansive senses of gender and sexuality that Reed longed for and sang about, but never got to benefit from fully. Hermes's empathy for the pain behind his subject's notoriously difficult personality is worthy of the humanity of Reed's songs, and I couldn't offer higher praise." —Carl Wilson, music critic at Slate and author of Let's Talk About Love: A Journey to the End of Taste

"Lou Reed: King of New York is a monumental work filled with first person accounts of the master's life and a dizzying array of never-before-heard details. Through his all-encompassing focus on Lou, Will Hermes serves up a big slice of late 20th-century New York art history. This is an extraordinary achievement." —Michael Imperioli, author of The Perfume Burned His Eyes

"Ezra Pound said that artists are the antennae of the race. Voilà: Lou Reed. Will Hermes gives us Reed in his full charismatic whiplashing complexity—sexy, surly, song-mad, vulnerable, shape-shifting, omnivorous, alert, brilliantly generative, creating and thriving in several musical and artistic ecologies over decades. This riveting, sensitive biography is everywhere underwritten by Hermes's grasp of late twentieth-century New York, throughlines of American music, and his own antennae for musical and cultural scenes and specificities. Hermes offers a profound reckoning unburdened by hagiography yet unembarrassed to celebrate. This will surely be the definitive biography of Reed for decades—for fans, friends, the curious, the indifferent, and even enemies. As Reed's beloved teacher Delmore Schwartz wrote, 'Time is the fire in which we burn.' As Hermes shows, Lou Reed was both the fire and the burnt." —Maureen N. McLane, author of My Poets