A Continent Erupts: Decolonization, Civil War, and Massacre in Postwar Asia, 1945-1955 (Hardcover)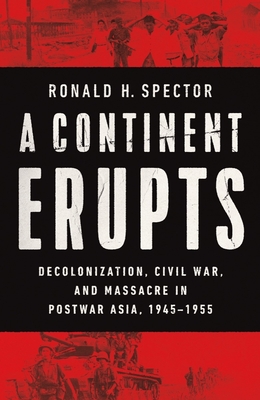 $40.00

Not in Stock... Available to ship in 3-5 days​
Description
---
A harrowing history of the conflicts that swept Asia during the decade following World War II—and determined the fate of the continent.
The end of World War II led to the United States' emergence as a global superpower. For war-ravaged Western Europe it marked the beginning of decades of unprecedented cooperation and prosperity that one historian has labeled "the long peace." Yet half a world away, in China, Indonesia, Vietnam, Korea, and Malaya—the fighting never really stopped, as these regions sought to completely sever the yoke of imperialism and colonialism with all-too-violent consequences.
East and Southeast Asia quickly became the most turbulent regions of the globe. Within weeks of the famous surrender ceremony aboard the U.S.S. Missouri, civil war, communal clashes, and insurgency engulfed the continent, from Southeast Asia to the Soviet border. By early 1947, full-scale wars were raging in China, Indonesia, and Vietnam, with growing guerrilla conflicts in Korea and Malaya. Within a decade after the Japanese surrender, almost all of the countries of South, East, and Southeast Asia that had formerly been conquests of the Japanese or colonies of the European powers experienced wars and upheavals that resulted in the deaths of at least 2.5 million combatants and millions of civilians.
With A Continent Erupts, acclaimed military historian Ronald H. Spector draws on letters, diaries, and international archives to provide, for the first time, a comprehensive military history and analysis of these little-known but decisive events. Far from being simply offshoots of the Cold War, as they have often been portrayed, these shockingly violent conflicts forever changed the shape of Asia, and the world as we know it today.
About the Author
---
Ronald H. Spector, professor emeritus of history and international relations, George Washington University, is a graduate of Johns Hopkins and Yale. His first permanent job was as a Marine NCO in Vietnam. He retired from the Marine Corps Reserve as a lieutenant colonel in 1997. Spector has been a Fulbright Visiting Professor in India, Israel, and Singapore. From 1986 to 1989 he was the director of Naval History for the Navy Department. He is the author of seven books, including Eagle Against the Sun and In the Ruins of Empire. In 2012 he was awarded the Samuel Eliot Morison Prize for Lifetime Achievement in Military History.
Praise For…
---
Marvelous.... [Spector] does an excellent job of bringing alive this unruly and complicated story of postwar Asia.... [His] gripping book reveals the underlying motivations of these civil wars. In doing so, he helps us to understand why the legacy of these conflicts is still with us today.
— Sheila Miyoshi Jager - New York Times Book Review

Rich with battle detail.... There is engrossing color in Mr. Spector's accounts.
— Tunku Varadarajan - Wall Street Journal

Ronald Spector's history of post–World War II Asia fills a major gap in our understanding of the post-1945 world. His beautifully written narrative is essential reading for anyone who wants to understand how we arrived at current international conditions.
— Robert Dallek, presidential historian

Authoritative and often enthralling.... This sweeping survey of the bloody wages of decolonization astounds.
— Publishers Weekly, starred review

Meticulously researched and carefully rendered.... Spector does an admirable job exploring the tumultuous events of his large canvas, and he is willing to look past the headlines for the underlying reasons, motivations, and dynamics of each conflict. An excellent starting point for anyone who wants to understand modern Asian history.
— Kirkus