The Golden Spruce: A True Story of Myth, Madness, and Greed (Paperback)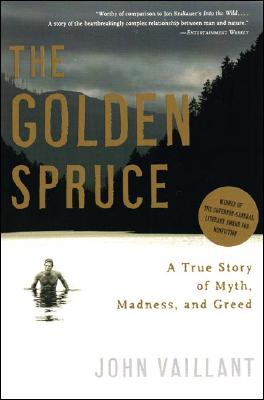 Description
---
A tale of obsession so fierce that a man kills the thing he loves most: the only giant golden spruce on earth.
When a shattered kayak and camping gear are found on an uninhabited island in the Pacific Northwest, they reignite a mystery surrounding a shocking act of protest. Five months earlier, logger-turned-activist Grant Hadwin had plunged naked into a river in British Columbia's Queen Charlotte Islands, towing a chainsaw. When his night's work was done, a unique Sitka spruce, 165 feet tall and covered with luminous golden needles, teetered on its stump. Two days later it fell.
As vividly as John Krakauer puts readers on Everest, John Vaillant takes us into the heart of North America's last great forest.
About the Author
---
John Vaillant's acclaimed, award-winning nonfiction books, The Golden Spruce and The Tiger, were national bestsellers. His debut novel, The Jaguar's Children, was a finalist for the Rogers Writers' Trust Fiction Prize and the International Dublin Literary Award. Vaillant has received the Governor General's Literary Award, the BC National Award for Canadian Non-Fiction, the Windham-Campbell Literature Prize, and the Pearson Writers' Trust Prize for Nonfiction. He has written for, among others, The New Yorker, the Atlantic, National Geographic, and the Walrus. He lives in Vancouver.
Praise For…
---
Worthy of comparison to Jon Krakauer's Into the Wild. . . . A story of the heartbreakingly complex relationship between man and nature.

— Entertainment Weekly

Absolutely spellbinding.
— William Grimes - New York Times

John Vaillant has written a work that will change how many people think about nature.
— Sebastian Junger, author of The Perfect Storm

A haunting tale of a good man driven mad by environmental devastation.... [Grant Hadwin's] appalling tree surgery is as vividly wrought as one of Patrick O'Brian's shipboard amputations.
— Frank Clifford - Los Angeles Times

This tragic tale goes right to the heart of the conflicts among loggers, native rights activists, and environmentalists, and induces us to more deeply consider the consequences of our habits of destruction.
— Donna Seaman - Booklist

Vaillant interlaces a well-reported murder mystery with elegantly spun cultural and native history, conjuring the spooky mood of the Northwest forests with the clarity of David Guterson or Jonathan Raban.
— Bruce Barcott - Outside

Make some more space on the shelf of Essential Northwest Books. John Vaillant has crafted a debut book that is a stunning look at this region's history and environment.
— John Marshall - Seattle Post-Intelligencer