Norse Mythology (Paperback)
Weller Book Works was founded as Zion Bookstore nearly 90 years ago. Over the years we've been known as Sam Weller's Books and Sam Weller's Zion Bookstore. We are in our third generation of operations, owned and managed by Tony and Catherine Weller. Our staff includes four generations of Wellers and a remarkable team of book lovers. Our bookstore sells new, used and rare books in a space built to surprise and delight you in historic Trolley Square.

We're happy to answer your questions and help you select just the right book.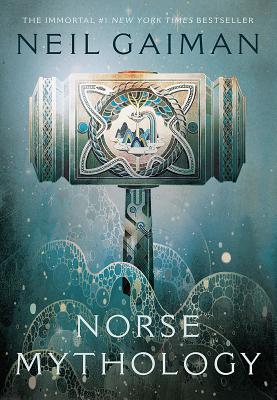 Description
---
"Remarkable.… Gaiman has provided an enchanting contemporary interpretation of the Viking ethos."—Lisa L. Hannett, Atlantic
Neil Gaiman, long inspired by ancient mythology in creating the fantastical realms of his fiction, presents a bravura rendition of the Norse gods and their world from their origin though their upheaval in Ragnarok.
In Norse Mythology, Gaiman stays true to the myths in envisioning the major Norse pantheon: Odin, the highest of the high, wise, daring, and cunning; Thor, Odin's son, incredibly strong yet not the wisest of gods; and Loki—son of a giant—blood brother to Odin and a trickster and unsurpassable manipulator.
Gaiman fashions these primeval stories into a novelistic arc that begins with the genesis of the legendary nine worlds and delves into the exploits of deities, dwarfs, and giants. Through Gaiman's deft and witty prose, these gods emerge with their fiercely competitive natures, their susceptibility to being duped and to duping others, and their tendency to let passion ignite their actions, making these long-ago myths breathe pungent life again.
About the Author
---
Neil Gaiman is the author of the New York Times best-selling A View from the Cheap Seats, The Ocean at the End of the Lane, The Graveyard Book, Coraline, Neverwhere, and the Sandman series of graphic novels, among other works. His fiction has received Newbery, Carnegie, Hugo, Nebula, World Fantasy, and Will Eisner Awards. His novel American Gods aired as a TV series in 2017. Originally from England, he lives in the United States, where he is a professor at Bard College.
Praise For…
---
In these accessible, retold tales, fantasy is odd, and real, and dire.
— Ethan Gilsdorf

Weaving together ancient Norse mythology with 21st-century sensibility, Gaiman's storytelling once again recreates an entire genre for the modern reader.
— Chelsea Hassler

Evocative and lyrical.… It is quite simply a breathtaking novel that is as matchless as the Norse gods themselves.
— Alex Brown

Norse Mythology introduces readers to a deeper world, rooted in the traditions of northern story telling. And what most of us know of Norse mythology only scratches the surface.… Gaiman's book serves as a welcome point of entry to a new generation of readers.

— Bill Jones

Who else but Neil Gaiman could become an accomplice of the gods, using the sorcery of words to make their stories new? The author of American Gods transforms Norse myths into addictive reading for young and old, with high-wattage retellings that preserve the monumental grandeur of the Nordic universe but also turn it into a world that is up close and personal, full of antic wit and dark intrigue.

— Maria Tatar, translator and editor of The Annotated Brothers Grimm

A lively, funny, and very human rendition of Thor the thunder god, his father Odin, and the dark-hearted trickster Loki (plus countless other gods and monsters).
— Petra Mayer

In Norse Mythology, Gaiman brings voice to the old myths so viscerally that listening to the audiobook every night for a week, I thought my bedroom might explode into Valhalla. The entire Norse pantheon, including dwarves and giants and demons, plays out as vividly as a novel or film. Honestly I may have to order a breastplate of some sort. As Gaiman puts it in the introduction, the stories feel like a journey from the ice and fire that created the world to the fire and ice that end it.

— Lidia Yuknavitch

A clear, continuous narrative, with big scenes the same as they always were but with emotional pointers added.
— Tom Shippey

Gaiman has such a profound understanding of the conflicts of Odin, Thor, Loki, and other gods that he revitalizes them through his imaginative depictions. His interpretation of major Norse myths will draw readers into a strange realm that will dazzle and baffle and lead to a new appreciation of Norse mythology.
— Jack Zipes, editor of The Norton Anthology of Children's Literature

Gaiman's prose is bright and fluid, his storytelling clear and cogent.… Norse Mythology ably captures the essence of a myth cycle that deserves to be better known, in an edition likely to speak to readers of all ages.

— Michael Berry