Planta Sapiens: The New Science of Plant Intelligence (Hardcover)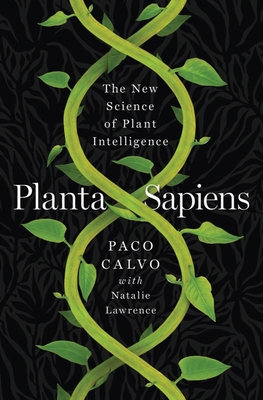 Description
---
An astonishing window into the inner world of plants, and the cutting-edge science in plant intelligence.
Decades of research document plants' impressive abilities: they communicate with each other, manipulate other species, and move in sophisticated ways. Lesser known, however, is that although plants may not have brains, their internal workings reveal a system not unlike the neuronal networks running through our own bodies. They can learn and remember, possessing an intelligence that allows them to behave in flexible, forward-looking, and goal-directed ways.
In Planta Sapiens, Paco Calvo, a leading figure in the philosophy of plant signaling and behavior, offers an entirely new perspective on plants' worlds, showing for the first time how we can use tools developed to study animal cognition in a quest to understand plant intelligence. Plants learn from experience: wild strawberries can be taught to link light intensity with nutrient levels in the soil, and flowers can time pollen production to pollinator visits. Plants have social intelligence, releasing chemicals from their roots and leaves to speak to and identify one another. They make decisions about where to invest their growth, judging risk based on the resources available. Their individual preferences vary, too—plants have personalities.
Calvo also illuminates how plants inspire technological advancements, from robotics to AI. Most importantly, he demonstrates that plants are not objects: they have their own agency. If we recognize plants as actors alongside us in the climate crisis—rather than seeing them simply as resources for carbon capture and food production—plants may just be able to help us tackle our most urgent problems.
About the Author
---
Paco Calvo is a professor of the philosophy of science and principal investigator at the Universidad de Murcia's Minimal Intelligence Lab (MINT Lab) in Spain.

Natalie Lawrence is a writer and illustrator with a PhD in the history of science, living in London.
Praise For…
---
A fascinating description of how plants interact with the environment in myriad ways.
— Temple Grandin - New York Times Book Review

Provocative.... Science, at its best, progresses through a reciprocal interplay between speculation and experimentation. Calvo's stimulating book draws us into that process.
— David George Haskell - Scientific American

Calvo raises some fascinating questions.
— Barbara J. King - Washington Post

Remarkable.... Calvo has a wonderfully infectious enthusiasm for his subject that makes this book, for all its complex science, a joy to read. He challenges us to set aside our 'zoocentric' perspective and to change our view of plants radically: from mechanisms akin to robots to complex organisms with a range of behaviours, responding to and anticipating their environments. In doing so, he has written a genuinely mind-expanding book.
— PD Smith - The Guardian

Planta Sapiens is [a] bold and brave paean to our planet's ligneous, leafy kingdom. I mostly relished the intellectual interrogation, the maverick thinking, and add my voice to his call to think beyond our prejudices and our anthropocentric indoctrination.

— Jackie Higgins - Daily Telegraph

We are unimaginable without plants, yet surprisingly blind to their powers and behaviors. Planta Sapiens weaves science and history into an absorbing exploration of the many ways that plants rise to the challenge of living.

— Merlin Sheldrake, author of Entangled Life

Planta Sapiens presents 'fertile possibilities' to the public and in doing so it has put science on notice. All plants are juggling to respond to climatic change. They are encoded to anticipate this, with their attentive neurobiochemistry driven by a helix that is so similar to that of the human family. Should we be surprised? No! We should be delighted with Professor Calvo's seeding of scientific curiosity for the hope that it offers.

— Diana Beresford-Kroeger, author of To Speak for the Trees

Deeply thought-provoking. Planta Sapiens is a mind-opening meditation about the inner lives of plants. Whether you come away convinced that plants are conscious, or not, this book will change—and enrich—the way you look at the green life all around you.

— Anil Seth, author of Being You: A New Science of Consciousness

Mind-blowing.... This impressive addition to the growing literature on how plants experience the world will change how readers see the flora around them.
— Publishers Weekly, starred review

Are plants sentient? ... Along with fascinating examples, Calvo devotes equal space to arguments with philosophers and fellow scientists over the meaning of intelligence. Readers will find it difficult to resist his claim that plants tailor their forms and experiences to their environments in a way that animals simply cannot.... Persuasive evidence for plant intelligence.
— Kirkus Reviews