25 Great Sentences and How They Got That Way (Paperback)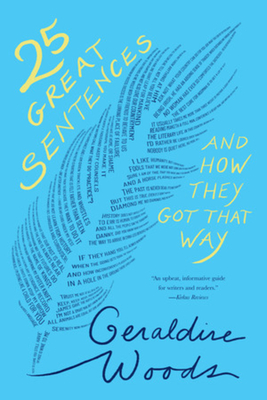 $17.95
Email or call for price
Description
---
A guide to the artistry that lifts a sentence from good to great.
We all know the basic structure of a sentence: a subject/verb pair expressing a complete thought and ending with proper punctuation. But that classroom definition doesn't begin to describe the ways in which these elements can combine to resonate with us as we read, to make us stop and think, laugh or cry.
In 25 Great Sentences and How They Got That Way, master teacher Geraldine Woods unpacks powerful examples of what she instead prefers to define as "the smallest element differentiating one writer's style from another's, a literary universe in a grain of sand." And that universe is very large: the hundreds of memorable sentences gathered here come from sources as wide-ranging as Edith Wharton and Yogi Berra, Toni Morrison and Yoda, T. S. Eliot and Groucho Marx.
Culled from fiction, nonfiction, drama, poetry, song lyrics, speeches, and even ads, these exemplary sentences are celebrated for the distinctive features—whether of structure, diction, connection/comparison, sound, or extremes—that underlie their beauty, resonance, and creativity. With dry humor and an infectious enjoyment that makes her own sentences a pleasure to read, Woods shows us the craft that goes into the construction of a memorable sentence. Each chapter finishes with an enticing array of exercises for those who want to test their skill at a particular one of the featured twenty-five techniques, such as onomatopoeia (in the Sound section) or parallelism (in the Structure section).
This is a book that will be treasured by word nerds and language enthusiasts, writers who want to hone their craft, literature lovers, and readers of everything from song lyrics and speeches to novels and poetry.
About the Author
---
Geraldine Woods has taught every level of English from fifth grade through Advanced Placement at both St. Jean Baptiste High School and The Horace Mann School in New York City. She is the author of more than fifty books, including Independent Study That Works: Designing a Successful Program, Sentence.: A Period to Period Guide to Building Better Readers and Writers, and 25 Great Sentences and How They Got That Way. She is also the creator of the Grammarian in the City blog, which explores a variety of topics related to language, grammar, and writing. She lives in New York City.
Praise For…
---
[A] delightfully readable examination of the foundation of literary architecture for writers and language enthusiasts alike.
— Poets & Writers

Using hundreds of examples from writers as diverse as Bruce Springsteen and Virginia Woolf, Geraldine Woods articulates the precise ways in which a writer can send a sentence spinning.
— Mary Norris, author of Between You & Me: Confessions of a Comma Queen

Geraldine Woods breaks down twenty-five of the greatest sentences in the history of the written word and obsesses over them in a way that writers and nonwriters can appreciate.
— David Mandel, Emmy-winning executive producer of Veep

Finally, someone who appreciates the engine of a fine sentence and isn't afraid to tinker with all the parts!
— Brenda Miller, author of An Earlier Life and coauthor of Tell it Slant: Creating, Refining, and Publishing Creative Nonfiction

Have you ever needed a book without knowing it, until it's in your hands? 25 Great Sentences is that book. You'll savor it. You'll pick it up again and again.

— John Allman, winner of the Pushcart Prize and Helen Bull Prize for poetry, author of Loew's Triboro and Clio's Children

This delightful book surprises on nearly every page.
— Richard Cytowic - New York Journal of Books

The premise of taking 25 'great' sentences to study might have been limiting, but the author...explores each sentence in context, giving pertinent details and insight, and uses numerous notable sentences from other sources to illustrate similar techniques...Woods is engaging and entertaining, a self-described 'language enthusiast', and her dry wit lifts both the book and the reader's spirits.
— Chartered Institute of Editing and Proofreading

This handy, practical guide prompts would-be writers to think critically about how to create effective and meaningful sentences.
— Publishers Weekly

[A]n upbeat, informative guide for writers and readers.
— Kirkus Reviews

An inherently fascinating read for anyone with an interest in the English language and storytelling...very highly recommended, especially for community, college, and university library Grammar, Rhetoric, and Linguistics Reference collections.
— Midwest Book Review