Beloved Beasts: Fighting for Life in an Age of Extinction (Paperback)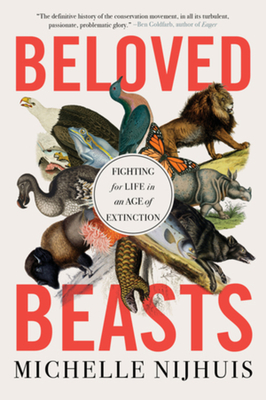 Description
---
Winner of the Sierra Club's 2021 Rachel Carson Award

One of Chicago Tribune's Ten Best Books of 2021

Named a Top Ten Best Science Book of 2021 by Booklist and Smithsonian Magazine



"At once thoughtful and thought-provoking," Beloved Beasts tells the story of the modern conservation movement through the lives and ideas of the people who built it, making "a crucial addition to the literature of our troubled time" (Elizabeth Kolbert, author of The Sixth Extinction).
In the late nineteenth century, humans came at long last to a devastating realization: their rapidly industrializing and globalizing societies were driving scores of animal species to extinction. In Beloved Beasts, acclaimed science journalist Michelle Nijhuis traces the history of the movement to protect and conserve other forms of life. From early battles to save charismatic species such as the American bison and bald eagle to today's global effort to defend life on a larger scale, Nijhuis's "spirited and engaging" account documents "the changes of heart that changed history" (Dan Cryer, Boston Globe).
With "urgency, passion, and wit" (Michael Berry, Christian Science Monitor), she describes the vital role of scientists and activists such as Aldo Leopold and Rachel Carson, reveals the origins of vital organizations like the Audubon Society and the World Wildlife Fund, explores current efforts to protect species such as the whooping crane and the black rhinoceros, and confronts the darker side of modern conservation, long shadowed by racism and colonialism.
As the destruction of other species continues and the effects of climate change wreak havoc on our world, Beloved Beasts charts the ways conservation is becoming a movement for the protection of all species including our own.
About the Author
---
Michelle Nijhuis is a project editor at the Atlantic, a contributing editor at High Country News, and an award-winning reporter whose work has been published in National Geographic and the New York Times Magazine. She is coeditor of The Science Writers' Handbook and lives in White Salmon, Washington.
Praise For…
---
A comprehensive history of the conservation movement—and a warning that we are not doing enough to prevent further animal mass extinction.
— USA Today

Spirited and engaging…Always attuned to ironies and anomalies, Nijhuis points out the changes of heart that changed history.
— Dan Cryer, Boston Globe

A critical—and elegantly written—examination of the western-centric systems guiding environmentalism today…Nijhuis helps us understand how to avoid repeating the mistakes of our past as we reckon with our future.
— Rosanna Xia - Los Angeles Times

Capacious, engrossing, and timely…Nijhuis is the sort of writer who makes excavating arcane facts and dinner-party-worthy anecdotes look effortless.
— Erica Berry, Outside

A far-ranging, powerfully written history of the conservation movement.
— Alex Orlando, Discover

Excellent…The book truly shines…when Nijhuis is brutally honest about how the conservation movement gained a reputation for being antihuman.
— Sarah Zielenski, Science News

[Nijhuis] is a gifted storyteller, capturing both the heroism of those fighting extinction and the reality of biodiversity experts who warn that many, many species are in danger of disappearing within decades.
— National Book Review

Lavishly researched, Beloved Beasts is a compassionate look at what humans have done—and need to do next—to protect the natural world.

— Amy Brady, Lithub

Beloved Beasts raises questions that get to the heart of the conservation movement's shortcomings…[A] much-needed critical history of conservation.

— Austin Price, Earth Island Journal

An environmental history that is essential reading for anyone committed to preserving life on Earth.
— Jason Mark, Sierra Club

[An] exceptionally comprehensive and enlightening history of conservation.
— Booklist (starred review)

With candor and authority, Nijhuis focuses on the intertwined relationships, backgrounds and paths of the fervent scientists and activists who spearheaded the conservation movement.
— Becky Libourel Diamond, Bookpage

An engrossing history of conservation and its accomplishments…Compassionate yet realistic and candid throughout, Nijhuis makes a significant contribution to the literature on environmentalism.
— Kirkus Reviews (starred review)

Nijhuis's comprehensive survey is sure to delight nature enthusiasts and those concerned with disappearing species.
— Publishers Weekly

Beloved Beasts is the definitive history of the conservation movement, in all its turbulent, passionate, problematic glory. It shines a bright and unsparing light on environmentalism's most influential hidden figures, and breathes new life into Aldo Leopold, Rachel Carson, and other heroes you thought you knew. The centuries-long campaign to protect our fellow creatures finally has the literary epic it deserves.

— Ben Goldfarb

From the origin of the concept of species through the CRISPR revolution, Beloved Beasts is at once thoughtful and thought-provoking—a crucial addition to the literature of our troubled time.

— Elizabeth Kolbert

In a bravura turn, Michelle Nijhuis shapes three hundred years of conservation history into one riveting tale. Beloved Beasts brims with surprise, compelling characters, and opportunities for introspection about the motley human effort to catalogue, celebrate, and protect the other inhabitants of our planet.

— Elena Passarello

If 'attention is prayer,' as Simone Weil suggests, then Michelle Nijhuis's carefully observed Beloved Beasts is a benediction bestowed not so much upon the men and women who carry out the work of species conservation but upon the very act of living in conversation with the more-than-human world.

— Elizabeth Rush

What a lovely, timely book. Michelle Nijhuis's deeply mined research and wholehearted compassion for her subjects—human and animal alike—are evident on every page.
— John Vaillant

Michelle Nijhuis has written a book that is both a beautiful, wise history and a measured call to action. By remembering the messy, bighearted, sometimes nearsighted, but ultimately hopeful efforts of those before us, we can be smarter as we embark on the profoundly human project of saving species other than our own.
— Florence Williams

A definitive and informative history…Nijhuis's detailed account is clear-eyed and unvarnished in its honesty.
— Valerie Thompson, Science

Heartfelt, engrossing, thought-provoking, even brutal at times, but always, painfully honest. In her storytelling, Nijhuis doesn't gloss over the dark moments…But it's because of her bold literary choices that the transformative and transcendent moments in this history shine a little brighter.
— Pankiam Amer, Scientific American