COVID-19
Weller Book Works is closed to the public. But Catherine and Tony are working behind closed doors to keep the store ready to open when we're able.
We're still taking and filling orders via this website for new books or Biblio for used and rare books. At this time we can offer curbside pick-up or shipping only.
We are unable to consider used book offers until after we re-open to the public.
Horizon (Hardcover)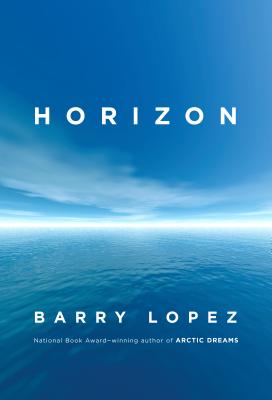 Description
---
ONE OF THE BEST BOOKS OF THE YEAR:
THE NEW YORK TIMES • NPR • THE GUARDIAN

From pole to pole and across decades of lived experience, National Book Award-winning author Barry Lopez delivers his most far-ranging, yet personal, work to date. Horizon moves indelibly, immersively, through the author's travels to six regions of the world: from Western Oregon to the High Arctic; from the Galápagos to the Kenyan desert; from Botany Bay in Australia to finally, unforgettably, the ice shelves of Antarctica.
 
Along the way, Lopez probes the long history of humanity's thirst for exploration, including the prehistoric peoples who trekked across Skraeling Island in northern Canada, the colonialists who plundered Central Africa, an enlightenment-era Englishman who sailed the Pacific, a Native American emissary who found his way into isolationist Japan, and today's ecotourists in the tropics. And always, throughout his journeys to some of the hottest, coldest, and most desolate places on the globe, Lopez searches for meaning and purpose in a broken world.


About the Author
---
Barry Lopez is the author of sixteen books and has been honored by a number of institutions for his literary, humanitarian, and environmental work. He lives in Oregon.
Praise For…
---
"At once reverie and urgent appeal, Horizon is beautiful and brutal—a story of the universal human condition, set in some of the most distinctive places on earth. Lopez [searches] both memory and meticulously recorded field notes, mining accumulated wisdom, seeking glimmers of hope. One of the strongest messages in Horizon is that without learning to embrace diversity, without listening to the tales told by cultures other than our own, we risk obliteration. Lopez's reverence for exploring every corner of the world is infectious, [and] his knack for making friends in the most unlikely places resonates long after you turn the last page. 'Are we not bound,' he asks, 'to learn how to speak with each other?'" —Hillary Rosner, The New York Times Book Review

"Sublime, dreamlike. One of America's foremost naturalist writers, Lopez is a welcoming host as he brings you across the world . . . Above all else, he wants us to consider. To find context and connections. To think about where to go from here. To take our time. Horizon is a contemplation of Lopez's belief that the only way forward is compassionately, and together." —Genevieve Valentine, NPR

"In Horizon, Lopez is remapping the world, revisiting places of surprising starkness and beauty, bring[ing] enormous questions down to earth by rooting them in a series of landscapes. Horizon is an interrogative autobiography . . . In beautiful prose, with characteristic modesty, he has taught the reader to trust him, as a privileged witness of his own being and all the different worlds he has urged it to inhabit. There's an extraordinary delicacy in the way he relates to traditional, indigenous wisdom and the people who sustain it. 'Diversity is not a mere characteristic of life,' Lopez writes. It's 'a condition necessary for life.' He means more than biological diversity: diversity of languages and cultures, of behaviors and wisdoms that have vanished. How can we keep the future from crushing the wisdom of the past altogether? Throughout his career Lopez has insisted on the possibilities of our better nature while examining the evidence of our worse. He never made a habit of rising up in judgment or condemnation; instead he wonders, what would it mean to understand our place in the universe? What sort of courage would it take to admit that we don't? He wants to find out whether the answers to these questions might make a difference in where we're headed." —Verlyn Klinkenborg, The New York Review of Books

"Beautifully composed [with] steady intellectual rigor—a capacious blend of popular science, travel writing and autobiography. There is no discernable limit to Lopez's curiosity: he writes with equal enthusiasm about human origins, the search for the edge of the expanding universe, classical music, arctic archaeology, Impressionist painting and Aboriginal rock art. He is at his best writing about natural history, where his scrupulous research and talent for lucid exposition make the business of scientific fieldwork come alive. The book is rendered with gorgeous prose, and spiked with humor . . . Extraordinary."—The Wall Street Journal

"Lopez writes with transporting precision . . . To travel is to encounter both places and people, and he traverses the psycho-geography as an artful participant/observer. He also confronts the urgent need to address our depredations as a species; he tries to cultivate empathy, compassion, listening carefully. He dispenses history judiciously. Lopez is a master of the big question: Why, for the most part, was it only the white and well-connected who had a seat at the table? The answer is complicated . . . Lopez handles [it] with aplomb." —The Christian Science Monitor

"A touchstone author whose nonfiction and fiction alike have inspired artists in multiple disciplines . . . Lopez's visionary descriptions of landscapes are startling in their immediacy. Burgeoning with nature's diversity, animals, cultural mindsets, beauty and devastation, Lopez underscores in these writings the essential impact of 'place' in our lives." —The Seattle Times
  
"Part autobiography, part cri de coeur . . . Lopez writes with fervid wonder and fascination about all he's seen and experienced . . . Most of all, [he] is gripped by an urgency to tell 'a coherent and meaningful story' about the threat of humanity's extinction as a result of climate change and societal declension, and the ways he believes it can be prevented." —The Atlantic

"Literary journalism, memoir and travelogue: so compelling it deserves its own genre." —The Washington Post 

"Epic, thoughtful . . . Lopez possesses an exquisite sensitivity. His legacy to the literary world is the ability to bring this awareness and empathy to his interpretations of the diverse cultures he encounters and the suffering he sees. Never judgmental or heavy-handed, Horizon is a dive into the encounters that have shaped Lopez's perceptions. We need insights such as his to face the chaos that exists on the horizon: climate change and the loss of knowledge from overlooked cultures, which Lopez honors and brings to life in this book."
—Taylor Larsen, BOMB

"Epic . . . Lopez is a thoughtful and careful curator, sweeping the planet to understand not only its topography but also the cultural geography of humans and the relationship between the two. He looks beyond the physical to philosophical, poetical, scientific, artistic, and even metaphysical explorations. Even when he goes afield, I'm right there with him—and there's no place I'd rather be." —Minneapolis Star Tribune

"Subtle, monumental, rich, spare: this opus by acclaimed writer Lopez contains and transcends contradictions. A reflection on journeys with researchers, into history, and across continents. . . Above all, he asks what, amid existential crises, we seek beyond the horizon's line." —Nature
 
"Horizon spans decades and continents and proves that few people have thought about our complex relationship with nature more deeply." —Men's Journal

"Epic…by turns unsettling and sublime. A bracing masterpiece for a broken world—the crowning achievement of a legendary scribe, a writer whose eyes never stray from the long view. Lopez searches out other ways of knowing, and contemplates the meaning of horizons—places actual and metaphorical where the earth meets the sky, and knowledge meets speculation.  This is Lopez's most autobiographical work. But the Earth is Horizon's true protagonist, and at stake is our collective future on it." —Outside

"Part travel journal, part history, part science, part autobiography, and completely unique, Horizon feels like the crowning achievement of Lopez's illustrious career. Despite of all the injustice he's seen in the world and the irrefutable science showing how humans are altering the climate, Lopez manages to convey a sense of hope. One thing is certain: we need adventurous, curious souls like Lopez to keep bringing back stories from beyond our particular horizon—in order to find our way forward as a species, together." —Associated Press

 "Lopez [is] one of our great writers on the environment and the human relationship to it. His prose is beautiful, but what makes his nonfiction books so memorable is the sweeping reach of his mind. He makes connections you might never have thought of before, yet they seem inevitable the instant you read them. Horizon is an epic journey for readers; a book to read contemplatively, despite the urgency of its mission. If the planet becomes unsurvivable, it is not only polar bears and rain forests that will perish. It's our grandchildren. This book trembles with that message, and with its author's boundless love for the world." —Colette Bancroft, Tampa Bay Times
 
"A grand work that defies genre . . . a work of profound moral urgency with much to offer to contemporary society." —Vincent J. Miller, America, The Jesuit Review

"Barry Lopez is a straight-up magnificent writer. To read Horizon is to be transported to wondrous landscapes far beyond the pale, and thereby obtain an astounding perspective on our increasingly uncertain future. Lopez expresses faith that our species can avert annihilation by investing 'more deeply in the philosopher's cardinal virtues': courage, justice, reverence, and compassion—virtues this book possesses in abundance." —Jon Krakauer

"A celebration and investigation of the impulse to explore, Horizon is itself an exploration—of both the human and inhuman worlds. In his intensity, his clarity, and his capacity for wonder, Barry Lopez is unmatched." —Elizabeth Kolbert 

"A huge-hearted, wise and sorrowful book by the Philosopher-King of Gaia. A masterpiece." —Joy Williams
 
"Riveting, seductive, and beautifully written. I don't know of any other writer who so mesmerizingly, so seemingly effortlessly, weaves together art, science and poetry—I found myself underlining sentences on every page. Barry Lopez is one of my literary heroes." —Andrea Wulf
 
"Nobody journeys like Barry Lopez. He's humble, he's ethical, he's honest, he's curious, he's doubtful, he's properly sad and he's wild. He wakes us up to the worth and the mystery of the world. His great affection for humanity comes up from every patch of earth he visits. This is an epic book that goes from pole to pole, and yet manages to make a distinct 'everywhere' out of each little patch he visits. A glorious book, gloriously told." —Colum McCann

"Lopez feels a bit like an American Virgil, one who can go above and below at the same time, leading us from sights of tremendous hope and peace, from the real to the dreamed. Lopez has managed to fashion his own kind of travel literature, one which doesn't merely report from distant places, but enlarges by refusing to place a center to the world. In his pages, through his journeys, the center is always the horizon. By staring at it—alongside many other people from places a long ways from his own Oregon—Lopez shows us what we gain when we respect the enormity of what we don't know, and also what we'd lose were we to erase nature's ways of knowing." —John Freeman, Lit Hub

"An essential voice in American writing. Barry Lopez's stories of inquiry and discovery are gloriously riveting, bringing the reader into a research boat, an archaeological site, a night-tent conversation, water forty feet under the edge of an ice shelf. At each place where he turns his eye and mind, something is learned of existence's richness and meaning. A master work. This book is a map to treasures everywhere buried." —Jane Hirshfield  

"No one has worked harder to make sense of our present civilization than Barry Lopez, and in these chronicles we get to share the travels that helped shape his extraordinary mind and heart. A great gift to us all." —Bill McKibben

"The world is vast, and so are the heart and the curiosity of Barry Lopez.  His voice is incomparable and necessary. No one else alive, to my knowledge, thinks so carefully about the moral dimensions of landscape." —David Quammen 

"Magnificent; brilliant. . . a contemporary epic, a life journey, urgent, personal and oracular. It has always been among Lopez's great powers as a writer to bring the natural world to resonate metaphysically . . . Again and again, phenomenal presences—birds, elk, rocks, ice—ring like struck bells in the mind. Lopez's writing throughout this book is pulled taut between his need to register the extreme urgency of the environmental crisis, and his long-held belief in time, patience and the careful observation of other cultures. A sense of vibrancy shivers throughout the book; Lopez's glittering prose becomes a concentrating mechanism. Superb . . . challenging and symphonic; a beautiful book, 35 years in the writing, but still speaking to the present moment." —The Guardian (UK)

"Breathtaking, essential—the autobiography of a wanderer. The stories in "I am astonished by this book, and delighted by its deep musicality. The scope and depth of Horizon are staggering—it is symphonic in scale and tone, and as contrapuntal as a Bach fugue."
—John Luther Adams, Pulitzer-Prize winning composer

"[Lopez] blends vivid reportage on landscapes, wildlife, and the knotty relationships among the scientists he accompanies with larger musings on natural history, environmental and climate crises, and the sins of Western imperialism in erasing indigenous cultures . . . His prose is so evocative and his curiosity so infectious that readers will be captivated." —Publishers Weekly

"Revelatory. . . Attentive in the world, rigorous on the page, morally inquisitive and bracingly candid, Lopez is a writer of conscience who illuminates the nexus between natural and human history. In his most encompassing, autobiographical, passionately detailed, and reflective book—a life's travelogue—he shares memories, stories, observations, concerns, condemnations, and hope.  'Each place on earth goes deep,' writes Lopez, as does he. He poses tough questions, and shares wisdom, all while looking to the horizon, 'the sill of the sky, separating what the eye could see from what the mind might imagine.'" —Booklist (starred review)

"Lopez is a natural philosopher in an almost literal sense, sharing his observations on the natural world and how different cultures have made sense of it, and one another. His ruminations take us around the globe and across the sweep of time, [with] meditations on travel, humankind's impact on the environment, and the painful effects of colonialization on indigenous populations. A recurrent theme is the role of elders in a culture—as nonlinear thinkers who draw on their cultural past to see new ways of solving problems based on empathic listening and letting go of assumptions… This first-person account is ideal for anyone who likes nature writing that also manages to bring philosophy, anthropology sociology, and history to bear with a personal guide." —Library Journal (starred review)

 "A winning memoir . . . Lopez has made a  long career of visiting remote venues such as Antarctica, Greenland, and the lesser known of the Galapagos Islands. From these travels he has extracted truths about the world . . . The author's chapter on talismans—objects taken from his travels, such as 'a fist-size piece of raven-black dolerite'—is among the best things he has written. But there are plentiful gems throughout the looping narrative, its episodes constructed from adventures over eight decades. . . . Exemplary writing about the world and a welcome gift to readers." —Kirkus Reviews (starred review)