The Upanishads: A New Translation by Vernon Katz and Thomas Egenes (Tarcher Cornerstone Editions) (Paperback)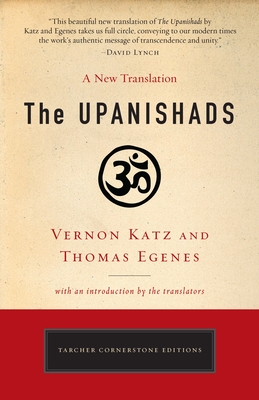 Description
---
This new translation of The Upanishads is at once delightfully simple and rigorously learned, providing today's readers with an accurate, accessible rendering of the core work of ancient Indian philosophy.
 
The Upanishads are often considered the most important literature from ancient India. Yet many academic translators fail to capture the work's philosophical and spiritual subtlety, while others convey its poetry at the cost of literal meaning.
 
This new translation by Vernon Katz and Thomas Egenes fills the need for an Upanishads that is clear, simple, and insightful – yet remains faithful to the original Sanskrit.
 
As Western Sanskrit scholars who have spent their lives immersed in meditative practice, Katz and Egenes offer a unique perspective in penetrating the depths of Eastern wisdom and expressing these insights in modern yet poetic language.
 
Their historical introduction is suited to newcomers and experienced readers alike, providing the perfect entry to this unparalleled work.
About the Author
---
Vernon Katz received his doctorate from Oxford University, where he studied the Upanishads with Sarvepalli Radhakrishnan, who later became president of India. Katz assisted the Maharishi Mahesh Yogi, founder of Transcendental Meditation, in his classic translation of the Bhagavad Gita. Katz's books include The Blue Salon and Other Follies, an account of growing up as a Jewish boy in Nazi Germany.
 
Thomas Egenes received his doctorate from the University of Virginia, after graduating from the University of Notre Dame. He is an associate professor at Maharishi University of Management.  Egenes has written some of today's leading guides for learning Sanskrit, which are used at universities in the U.S., Europe, and Australia.
Praise For…
---
"This beautiful new translation of The Upanishads by Katz and Egenes takes us full circle, conveying to our modern times the work's authentic message of transcendence and unity."
—David Lynch

"In this exquisitely revealing translation of the ancient Upanishadic wisdom, Drs. Katz and Egenes have granted us profound new insights into the transcendent Unity at the basis of our diverse, ephemeral universe. With great clarity and subtlety of expression, they have penetrated deeply into these ageless teachings, providing the modern reader with an invaluable understanding of the true nature of the Self and the cosmos as experienced in higher states of consciousness. In so doing, they masterfully illuminate the core message of The Upanishads: that life in its essence is wholeness and bliss—a reality that can be, indeed should be, the living experience of everyone on earth."            
—John Hagelin, Ph.D., Professor of Physics, Maharishi University of Management; International President, Global Union of Scientists for Peace

"The Upanishads are among the greatest edifices to higher states of consciousness in world literature, and this marvelous translation by Vernon Katz and Thomas Egenes eloquently conveys the transcendent insights and exalted poetry of the original texts. Their work displays an impressive command of the philosophical concepts embedded in the original Sanskrit and brings the words of the ancient sages vividly to life in beautifully crafted, accessible English. Both the scholar and the general reader will appreciate the clarity with which this volume evokes the experience of ultimate reality beyond the limitations of human thought, which is The Upanishads' singular focus."
 —Barbara A. Holdrege, Professor of Religious Studies and Chair of South Asian Studies Committee, University of California, Santa Barbara