Max Perkins: Editor of Genius (Paperback)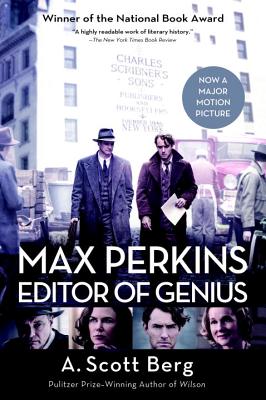 Description
---
The National Book Award winner from Pulitzer Prize-winning author A. Scott Berg is now celebrating its 40th anniversary.

The talents he nurtured were known worldwide: F. Scott Fitzgerald, Ernest Hemingway, Thomas Wolfe, and numerous others. But Maxwell Perkins remained a mystery, a backstage presence who served these authors not only as editor but also as critic, career manager, moneylender, psychoanalyst, father-confessor, and friend.

This outstanding biography, a winner of the National Book Award, is the first to explore the fascinating life of this genius editor extraordinare—in both the professional and personal domains. It tells not only of Perkins's stormy marriage, endearing eccentricities, and secret twenty-five-year romance with Elizabeth Lemmon, but also of his intensely intimate relationships with the leading literary lights of the twentieth century. It is, in the words of Newsweek, "an admirable biography of a wholly admirable man."

The basis for the Major Motion Picture Genius, Starring Colin Firth, Nicole Kidman, and Jude Law.
About the Author
---
A. Scott Berg is the #1 New York Times bestselling author of five biographies: Max Perkins: Editor of Genius, winner of the National Book Award; Goldwyn, for which he received a Guggenheim Fellowship; Lindbergh, winner of the Pulitzer Prize; Kate Remembered, his biographical memoir of Katharine Hepburn; and Wilson, the definitive biography of twenty-eighth president Woodrow Wilson.
Praise For…
---
"A highly readable work of literary history."—The New York Times Book Review
 
"Berg has told this story unobtrusively and with great feeling, and he has (perhaps just in the nick of time) rescued Perkins from permanent obscurity."—The Atlantic
 
"[An] exhaustive, penetrating, and wholly satisfying biography...Scrupulous, thoughtful, touching, memorable, and eminently rewarding."—Jonathan Yardley, The Miami Herald
 
"Talented, intelligent, and marvelously researched...A work that does honor to the subject."—Chicago Tribune
 
"Berg's whole narrative is first-rate—filled with humor and feeling. Max would have published it in a minute."—Newsweek
 
"Although Perkins would have been embarrassed by the attention, Berg's tribute would have touched him."—Time
 
"A book about Maxwell Perkins? Of course! Why didn't someone think of it before?...Berg has done very well...It's a fascinating and illuminating story."—Chicago Sun-Times
 
"As complete a Max Perkins as we will ever need. It's an extraordinary vivid portrait."—Webster Schott, The Washington Post Book World
 
"Perkins turns out to have been as fascinating, dark, complex, and sad as any of his golden boys. A lovely book about the age of giants and the extraordinary man in the shadows behind them."—Russell Baker
 
"Max Perkins was the best of the best. This book brings him back alive."—Erskine Caldwell