Talking to Heaven: A Medium's Message of Life After Death (Mass Market)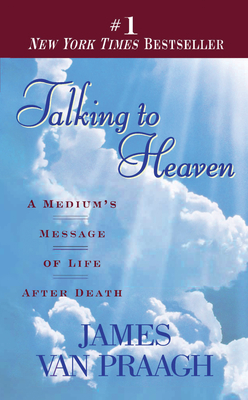 List Price: $8.99
Our Price: $7.99
(Save: $1.00 11%)
Description
---
James Van Praagh is a spiritual medium—someone who is able to bridge the physical and spiritual worlds. Though unaware of his gifts until his twenties, he slowly came to terms with his unique abilities.

Talking to Heaven explores his most revealing sessions with grieving people seeking to contact the spirits of loved ones. From a devastated mother receiving a message of hope from her deceased little girl, to communicating with a young man, killed in Vietnam, who doesn't realize he's dead, Van Praagh affirms his belief in the existence of a peaceful afterlife. Talking to Heaven also offers those who are grieving methods to recognize and positively deal with the pain of grief in a healthy, honest manner.

Part spiritual memoir, part case study, part instrumental guide, Talking to Heaven will change the way you perceive death and life.
About the Author
---
James Van Praagh is a world-famous medium who is renowned for conveying messages and conversations between the physical and spiritual realms. He is the author of the New York Times bestsellers Reaching To Heaven and Talking To Heaven, which sold close to 600,000 copies in hardcover. Although he was raised a Roman Catholic and even entered a seminary at 14, he soon found that "spirituality" was more compelling than "religion." He graduated from San Francisco State University with a degree in broadcasting and communication, then moved to Los Angeles, where at age 24, he met a medium who told him that within two years, he himself would become clairvoyant. Van Praagh's psychic sensitivity increased, and he began to receive messages from the beyond. He now lives in Southern California but travels throughout the country lecturing, giving demonstrations, and spreading the knowledge of life after death. In addition, he conducts specialized tours of spiritual centers around the world, including in Brazil, Egypt, and Mexico.