Updated Covid Information
Weller Book Works wants you to stay healthy.
For the health of our customers and staff,
WBW is continuing to require face masks or respirators in our store.
Disposable face masks are available if you do not have one.
Curbside pick-up and shipping services are available.
Staffing Shortfall
Dear Booklovers,
We will be CLOSED for in-person visits Sunday, January 23, 2022 due to a staffing shortfall.
You may still order books on this website for fulfillment Monday.
Please visit us again.
The Little Book of Hindu Deities: From the Goddess of Wealth to the Sacred Cow (Paperback)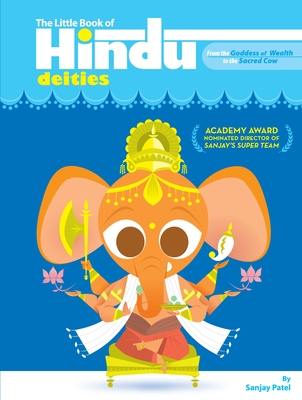 $17.00

Not in Stock... Available to ship in 3-5 days​
Description
---
Pixar animator and Academy Award–nominated director Sanjay Patel (Sanjay's Super Team) brings to life Hinduism's most important gods and goddesses—and one sacred stone—in fun, full-color illustrations, each accompanied by a short, lively profile.

The Little Book of Hindu Deities is chock-full of monsters, demons, noble warriors, and divine divas. Find out why Ganesha has an elephant's head (his father cut his off!); why Kali, the goddess of time, is known as the "Black One" (she's a bit goth); and what "Hare Krishna" really means.

"Throw another ingredient in the American spirituality blender. Pop culture is veering into Hinduism."—USA Today
About the Author
---
SANJAY PATEL is an animator and storyboard artist for Pixar Animation Studios, where he has worked on features that include Monsters, Inc., A Bugs Life; Toy Story 2; and The Incredibles. He has also worked on The Simpsons for Fox and with legendary cartoonist John K., creator of Ren and Stimpy. He was nominated for the Academy Award for Best Animated Short for his short film Sanjay's Super Team.
Praise For…
---
"Don't mess with Kali, cautions Patel on the opening page of this arresting, innovative, entertaining book. Who knew the Hindu pantheon could be so much fun? Patel, an animator at Pixar studios, breathes new life into old mythology, telling the exploits of various deities while drawing us in—literally—with his joyous and unexpected full-color illustrations. In the introduction, he notes that he has always been influenced by Japanese animation, and his renderings bear the mark of the wide-eyed, large-headed, simple style that he so admires. The book is awash in color, with vivid saffrons, purples, fuchsias and oranges adding a lushness to the tales he recounts... Both funny and informative, this is a fresh and breezy introduction to the Hindu gods."—Publishers Weekly