God's Red Son: The Ghost Dance Religion and the Making of Modern America (Hardcover)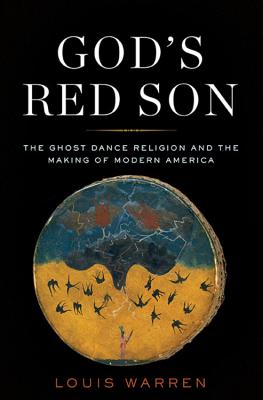 Staff Reviews
---
Well written and engaging history of the rise, spread and continued life of the Ghost Dance. Interestingly, Warren argues that the Native American adherents focused more on integrating with white American economy and used the Ghost Dance to maintain their native culture.
— From
Frank's Picks
Description
---
The definitive account of the Ghost Dance religion, which led to the infamous massacre at Wounded Knee in 1890

Winner of the Bancroft Prize in American History

In 1890, on Indian reservations across the West, followers of a new religion danced in circles until they collapsed into trances. In an attempt to suppress this new faith, the US Army killed over two hundred Lakota Sioux at Wounded Knee Creek. In God's Red Son, historian Louis Warren offers a startling new view of the religion known as the Ghost Dance, from its origins in the visions of a Northern Paiute named Wovoka to the tragedy in South Dakota. To this day, the Ghost Dance remains widely mischaracterized as a primitive and failed effort by Indian militants to resist American conquest and return to traditional ways. In fact, followers of the Ghost Dance sought to thrive in modern America by working for wages, farming the land, and educating their children, tenets that helped the religion endure for decades after Wounded Knee. God's Red Son powerfully reveals how Ghost Dance teachings helped Indians retain their identity and reshape the modern world.
About the Author
---
Louis S. Warren is the W. Turrentine Jackson Professor of Western US History at the University of California, Davis. The award-winning author of several books, Warren lives in Davis, California.
Praise For…
---
"In God's Red Son, Louis Warren offers an original, compellingly written and clear-eyed chronicle of native cultural transformation and ordeal."
—Wall Street Journal

"[God's Red Son is] an enlightening scholarly study of American Indian history... [An] astute new appraisal [of the Ghost Dance religion]... This is an eye-opening work of American history."
—Kirkus

"An engrossing, readable, and carefully researched history plotting the rise, spread, and continued life of the Ghost Dance among Native Americans...The work will delight fans of well-written history and appeal to historians of the West, Native Americans, and religion."
—Publishers Weekly

"[God's Red Son] is a complex work that has much to teach us about the social sciences and anthropology. While of obvious academic interest, the book will also appeal to general readers curious about Indian history and religion."
—Booklist

"God's Red Son is riveting and transcendent-a magnificent new interpretation that reveals the Ghost Dance as a beacon to modernity, lighting the way to the future. Like Wovoka himself, Louis Warren speaks to all of us navigating the difficult terrain between past realities and present prospects."
—Elizabeth Fenn, winner of the Pulitzer Prize for History, University of Colorado Boulder

"Louis Warren is one of the most original historians writing today. He has an uncanny ability to see what others have missed and to convey it in a clear compelling narrative."
—Richard White, Margaret Byrne Professor of American History, Stanford University

"Louis Warren's Buffalo Bill's America leapt past decades of writing to become the definitive treatment of the Wild West show. With God's Red Son, he has done it again, combining scholarly depth and literary brilliance in a magisterial reinterpretation of the Ghost Dance. But more than that, God's Red Son is one of the most powerful accounts of Native American modernity you'll ever read, critical to an understanding of Indian Country today."
—Philip J. Deloria, Carroll Smith-Rosenberg Collegiate Professor, University of Michigan

"With God's Red Son, Louis Warren has written yet another book that is going to re-arrange the mental furniture in our heads. His wonderfully clear prose pulls us effortlessly through a story that has western Indians emerge as entirely modern, and their 19th century Ghost Dance religion as an endeavor many readers will find not just freshly understandable, but spiritually familiar. As was the case with his biography of Buffalo Bill, this book is Warren at the absolute top of his game."
—Dan Flores, author of Coyote America: A Natural and Supernatural History

"I can't remember the last book I read that so persuasively rewrites what I thought I knew about a much studied topic. Louis Warren's book does that for the Ghost Dance, and, more than that, it allows readers to see anew the history of the era and of all American religions. God's Red Son is truly a revelation."
—Stephen Aron, Professor of History, UCLA

"Forget what you thought you knew about the Ghost Dance. In God's Red Son, Louis Warren delivers an entirely new and convincing interpretation of one of the most significant episodes in the colonization of the American West. A masterwork of investigative history."
—John Mack Faragher, Yale University