The Anthropocene Reviewed: Essays on a Human-Centered Planet (Paperback)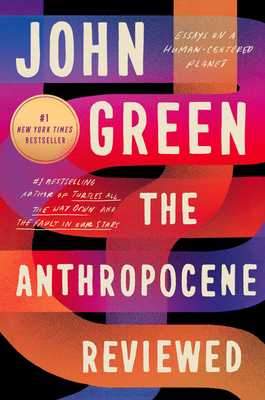 List Price: $18.00
Our Price: $14.40
(Save: $3.60 20%)
Staff Reviews
---
According to the National Geographic Society, the Anthropocene is described as a "period of time during which human activities have impacted the environment enough to constitute geological change." Humans, at least how we know them now, have only really been around for the last 250,000 years, a miniscule blip on earth's historical timeline. We don't even take up 1%, and yet the amount of change we have afflicted upon the planet in the short span of our existence will likely outlive even us.
It's rather frightening to think about the amount of power we hold to "radically reshape" the earth, and how little control of that power we actually have. A heavy and teetering burden to bear, but at least we don't have to bear it alone. John Green's The Anthropocene Reviewed explores what it's like to be a participant living in the Anthropocene, reviewing all the changes—good and bad—that come with it.
It's sort of ironic to write a review for a book of reviews (take a shot each time I say review). But since I'm also a participant of the Anthropocene, I find it rather appropriate. In over forty essays, Green reveals his experiences with topics that range from the most mundane to the extraordinary—Dr Pepper to sunsets to the human capacity to wonder. The book is openhearted and vulnerable, rich in a way that will make you both laugh and ache with melancholy. In essence, this book is a love letter to our "human-centered planet," because to love something means to see it in all its flawed glory. To look at all its broken bits and cracks, and see them filled with golden hope. Alexander pope wrote that "To err is human," and we cannot hide away from all the erring we have done. Humanity has reshaped and cracked and battered, but we have also created and dreamed and loved. I never claim to know the meaning behind what an author has written, what their intended purpose was, or what they truly wanted to say, but I hope this book was intended to make us blush with warm affection for our frail and temporary selves.
It's hard to love something as fickle as this planet, this earth bursting with the very worst and best of humanity. There is much to be scared of—the future is uncertain and fragile—but life is so very long, I'd like to try to fall in love with it as best as I can. To quote John Green: "We all know how loving ends. But I want to fall in love with the world anyway, to let it crack me open. I want to feel what there is to feel while I am here." So pay attention, fall in love with the world, read this book. Or don't. Read something else, anything you can get your hands on. Watch the sunset, drink Dr Pepper, stay away from Canada geese and CNN. Enjoy being a participant of the Anthropocene. As Maurice Sendak encouraged, "Live your life, live your life, live your life."
— Aura
Description
---
"Masterful. The Anthropocene Reviewed is a beautiful, timely book about the human condition—and a timeless reminder to pay attention to your attention." —Adam Grant, #1 bestselling author of Think Again and host of the podcast Re:Thinking

The instant #1 bestseller from John Green, author of The Fault in Our Stars and Turtles All the Way Down, is now available in paperback with two brand-new essays!

"Gloriously personal and life-affirming. The perfect book for right now." —People
"Essential to the human conversation." —Library Journal, starred review

The Anthropocene is the current geologic age, in which humans have profoundly reshaped the planet and its biodiversity. In this remarkable symphony of essays, bestselling author John Green reviews different facets of the human-centered planet on a five-star scale—from the QWERTY keyboard and sunsets to Canada geese and Penguins of Madagascar. Funny, complex, and rich with detail, the  reviews chart the contradictions of contemporary humanity.

John Green's gift for storytelling shines throughout this masterful collection. The Anthropocene Reviewed is an open-hearted exploration of the paths we forge and an unironic celebration of falling in love with the world.
About the Author
---
John Green is the award-winning, #1 bestselling author of books including Looking for Alaska, The Fault in Our Stars, and Turtles All the Way Down. His books have received many accolades, including a Printz Medal, a Printz Honor, and an Edgar Award. John has twice been a finalist for the Los Angeles Times Book Prize and was selected by TIME magazine as one of the 100 Most Influential People in the World. He is also the writer and host of the critically acclaimed podcast The Anthropocene Reviewed. With his brother, Hank, John has co-created many online video projects, including Vlogbrothers and the educational channel Crash Course. He lives with his family in Indianapolis, Indiana. You can visit John online at johngreenbooks.com.
Praise For…
---
Praise for The Anthropocene Reviewed

#1 New York Times Bestseller
#1 Wall Street Journal Bestseller
#1 Indie Bestseller
USA Today Bestseller
International Bestseller

GOODREADS CHOICE NONFICTION BOOK OF THE YEAR

★ "The book is a review of humanity: how we grow, how we build, how we destroy, and how we observe ourselves. Many books succeed at making the personal universal, but this one also makes the universal personal.

"This is a book about culture, about science and medicine, about Green himself, but really it surpasses these designations. It is essential to the human conversation. John Green whispered the truth of humanity onto the page, and as with all good secrets, you'll need to lean in closely to hear." —Library Journal, starred review

"The Anthropocene Reviewed is the perfect book to read over lunch or to keep on your nightstand, whenever you need a reminder of what it is to feel small and human, in the best possible way." —San Francisco Chronicle

"Charming, curious, and heartfelt. Each essay feels like its own adventure on a journey toward understanding our world and humanity's impact on it."  —NPR, Best Books of the Year

"Moving, entertaining and mind-expanding. . . . Green has a Gladwell-esque ability to explain complex phenomena and his sense of humor and eye for life's absurdities bring lightness to difficult and sometimes harrowing topics."  —The Irish Times

"Green's style is akin to that of someone like Susan Orlean, combining deeply personal anecdotes with fascinating facts. . . . The result is like falling into a Wikipedia hole if the entries were written as a form of therapy."  —A.V. Club

"Green searches for joy—large and small—in human nature." —Parade Magazine, Best Books of the Year
"Poignant and reassuring. . . . A reminder that even with everything going on in the world, we can still find joy in little things. Humans have an incredible capacity to love, and this book is proof that no matter how big or small, there is so much in this world to love." —Business Insider

"There is something of the sermon in [Green's] essays as he mixes curiosity and erudition with confession, compassion, and wit, searching for illuminating life lessons amid life's dark chaos. His particular mix of irony and sincerity enables him to embrace both the sublime and the ridiculous." —Booklist
 
★ "Each short review is rich with meaning and filled with surprises and together, they amount to a resonant paean to hard-won hope." —Publishers Weekly, starred review

★ "Each of the entries in The Anthropocene Reviewed: Essays on a Human-Centered Planet is a small gem, polished to near perfection…. What unites them is [Green's] uncanny ability to structure each piece as both a critique of human foibles and an embracing of them." —Shelf Awareness, starred review

"If you're looking for a little hope this summer, look no further than John Green's latest essay collection…. These personal essays explore humanity in every detail from funny and small to complex and powerful." —Isaac Fitzgerald, TODAY Show Summer Reading Recommendations

"In his novels, John Green conjures richly imagined, heartfelt drama that lovingly explores the human condition. With The Anthropocene Reviewed, John pulls off the same magic trick while writing about the largest ball of paint...and it is glorious. Every page is full of insight. I loved it." —Roman Mars, creator and host of 99% Invisible

"The Anthropocene Reviewed somehow satisfies all the contradictory demands I have for a book right now: it stimulates my brain while getting me out of my head while taking me to faraway places while grounding me in the wonders of my everyday. I'm so glad it's here. I need it." —Anna Sale, host of Death, Sex & Money and author of Let's Talk About Hard Things

"If loving something out loud takes courage, and I think it does, John Green is Evel Knievel and The Anthropocene Reviewed is a series of ever-more-impressive motorcycle jumps." —Latif Nasser, cohost of Radiolab