Material World: The Six Raw Materials That Shape Modern Civilization (Hardcover)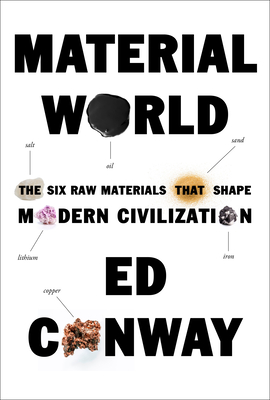 $35.00

Not in Stock... Available to ship in 3-5 days
Description
---
Sand, salt, iron, copper, oil, and lithium. These fundamental materials have created empires, razed civilizations, and fed our ingenuity and greed for thousands of years. Without them, our modern world would not exist, and the battle to control them will determine our future. • Finalist for the Financial Times and Schroders Business Book of the Year Award

The fiber-optic cables that weave the World Wide Web, the copper veins of our electric grids, the silicon chips and lithium batteries that power our phones and cars: though it can feel like we now live in a weightless world of information—what Ed Conway calls "the ethereal world"—our twenty-first-century lives are still very much rooted in the material.

In fact, we dug more stuff out of the earth in 2017 than in all of human history before 1950. For every ton of fossil fuels, we extract six tons of other materials, from sand to stone to wood to metal. And in Material World, Conway embarks on an epic journey across continents, cultures, and epochs to reveal the underpinnings of modern life on Earth—traveling from the sweltering depths of the deepest mine in Europe to spotless silicon chip factories in Taiwan to the eerie green pools where lithium originates.

Material World is a celebration of the humans and the human networks, the miraculous processes and the little-known companies, that combine to turn raw materials into things of wonder. This is the story of human civilization from an entirely new perspective: the ground up.
About the Author
---
ED CONWAY is economics and data editor of Sky News and a columnist for the Times (London). He has won numerous awards for his journalism, including most recently the 2018 Wincott Foundation Journalist of the Year Award. He lives in London.
Praise For…
---
"Compelling . . . Material World [makes] strong points . . . These days, Conway reckons, humanity mines, drains, and blasts more stuff out of the ground each year than it did in total during the roughly three hundred millennia between the birth of the species and the start of the Korean War. This comes with immense consequences, both ecological and social, even if we don't attend to them." —Elizabeth Kolbert, The New Yorker

"A spirited tour of six material things on which our lives depend. . . [Conway] ably describes how commodities interact . . . Lively and impeccably written--a welcome addition to the way-the-world-works literature." —Kirkus Reviews (starred review)

"[A] masterful exploration of the materials that underpin civilization . . . Like Bill Bryson, Conway delights in facts . . . What distinguishes Material World is his access. Although he is very well informed, this is not a remote, academic analysis: he has been to the salt mines beneath the North Sea, the mineral railway of the Atacama Desert, the Chilean town being swallowed by the world's demand for copper, and as a TV journalist he conveys a vivid sense of these places." —Will Dunn, The New Statesman

"Full of colorful characters and fascinating connections, Material World shows how the seemingly simplest materials—from sand to salt to iron—require unbelievably complex refining and processing before arriving at their final form. With absorbing storytelling, Conway shows why we should not take the material world for granted. Fascinating and insightful, this book has changed the way I see the material world." —Chris Miller, author of Chip War

"Deconstructs the modern world for us to see inside . . . As we fret and argue about how to tackle climate change, economic development and geopolitical tensions, this book is a timely reminder of our reliance on physical stuff, and it offers a challenging, practical perspective on these debates." —Paul J. Davies, Bloomberg

"Fascinating . . . Lucidly shows the scale of the environmental problem and the irony of new demand created by efforts to wean ourselves off oil on to batteries." —John Gapper, Financial Times

"Goes straight on the 'must-read' list . . . Conway is one of the most adroit commentators on economics and business of our time." ―City AM

"Lively, rich and exciting . . . Full of surprises." —Peter Frankopan, author of The Earth Transformed

"Fascinating and forensic in equal measure . . . Reveals the web of mining and manufacturing that underpins the lives of everyone on the planet." —Mark Miodownik, author of Stuff Matters

"A highly-engaging and important look at the key materials powering our modern world, and how we feed our insatiable appetite for them." —Kenneth Rogoff, Professor of Economics at Harvard University and ex-Chief Economist of the IMF

"A compelling narrative of the human story." —Tim Marshall, author of Prisoners of Geography

"Expansive, erudite, and edifying. A stunning insight into the materials that shaped our history and built the modern world." —Lewis Dartnell, author of Origins
 
"Fascinating, fun, and vitally important. A wonderful exploration of the world we've built yet somehow manage to ignore." —Tim Harford, author of The Data Detective
 
"Conway's gripping explanation of a world you didn't know needed explaining deserves this highest of accolades: Material World, once read, leaves us baffled that nobody ever thought of writing it before." —Matthew Parris, author of Fracture
 
"A stunning book that will transform the way you think about economics and life. Brilliantly written." —Matthew Syed, author of Rebel Ideas

"Ed Conway is a great thinker... Material World is an engrossing study of the basic substances on which we all depend. Anyone who cares about the resources which built our world and where mankind is heading must read this vital book." —Adam Boulton, Times Radio
 
"A masterful exploration of how materials shape our world more than ever – economically, geopolitically and environmentall." —Diane Coyle, Bennett Professor of Public Policy at the University of Cambridge