The Hunger (Paperback)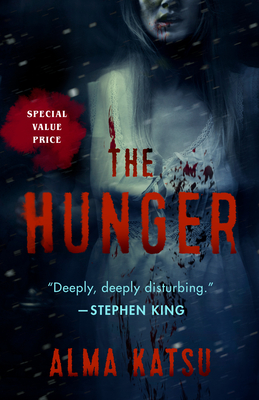 Description
---
"Supernatural suspense at its finest . . . It will scare the pants off you." —The New York Times Book Review

Evil is invisible, and it is everywhere. That is the only way to explain the series of misfortunes that have plagued the wagon train known as the Donner Party. Depleted rations, bitter quarrels, and the mysterious death of a little boy have driven the isolated travelers to the brink of madness. Though they dream of what awaits them in the West, long-buried secrets begin to emerge, and dissent among them escalates to the point of murder and chaos.

As members of the group begin to disappear, the survivors start to wonder if there really is something disturbing, and hungry, waiting for them in the mountains...and whether the evil that has unfolded around them may have in fact been growing within them all along.
About the Author
---
Alma Katsu is the award-winning author of eight novels, most recently Red London, The Fervor, and Red Widow. Prior to the publication of her first novel, she had a thirty-five-year career as a senior intelligence analyst for several U.S. agencies, including the CIA and NSA, as well as RAND, the global policy think tank. Katsu is a graduate of the masters writing program at the Johns Hopkins University and received her bachelors degree from Brandeis University. She lives outside of Washington, DC, with her husband, where she is a consultant to government and private industry on future trends and analytic methods.
Praise For…
---
An NPR Best Horror Novel
A Suspense Magazine Best Book of the Year
Winner of the Western Heritage Award
Finalist for the Bram Stoker Award
Finalist for the Locus Award 

And one of...

The New York Times's 50 States, 50 Scares  Picks 
O, The Oprah Magazine's Scariest Books of All Time
Women's Republic's Ten Horror Books by Women to Read This October
TODAY.com's 13 Scary Books, From Classics to Modern Fiction, to Read for Halloween 
AARP Magazine's 20 Scary Books for Grownups
Forbes's The Five Best Horror Books of 2018-2019
Vulture's 13 Great Horror Books Written by Women
Refinery29's 20 Terrifying Books for When You've Already Read All The Spooky Season Classics
BookRiot's 15 Favorite Historical Thrillers
BookRiot's 9 Great Camping Horror Books
BookRiot's Best Horror Books of the Decade
The Observer's Best Books of 2018
InsideHook's New Wester Canon Selections
Mental Floss' 13 Essential Horror Novels From The Last Five Years
Goodreads' The Most Popular Horror Novels of the Past Five Years
Shondaland's 16 Spine-Tingling Reads for Halloween
Men's Health's Best Horror Books

"Supernatural suspense at its finest...It is strangely ethereal, yet gritty...But the best thing about The Hunger is that it will scare the pants off you....Enjoy the journey, one so entertaining that you almost don't mind feeling queasy at dinner." —The New York Times Book Review

"Not only will Alma Katsu's acclaimed novel haunt you, it will give you empathy for the people forced to undergo such horrors." —O, The Oprah Magazine

"Katsu shows an acute understanding of human nature.…[She] is at her best when she forces her readers to stare at the almost unimaginable meeting of ordinary people and extraordinary desperation, using her sharp, haunting language." —USA Today

"A reimagining of the ill-fated Donner Party but with an eerie supernatural twist." —New York Post

"The Donner Party will never not be fascinating, and Alma Katsu's The Hunger somehow makes the man-eating story all the more enticing." –BookRiot

"Equal parts unputdownable and must-put-it-down-or-I-am-going-to-have-a-heart-attack...You travel into this book and there is no escape. Katsu is an exceptionally gifted writer and the dread-soaked pages are with me every day as both a writer and a scaredy cat." —Caroline Kepnes for TODAY.com

"Combines meticulous historical research and a keen understanding of human nature with a monstrous original metaphor to reimagine the ill-fated Donner-Reed party as a haunted endeavor, doomed from its first mile." —Salon

"The Hunger is full of foreboding and humanity." —Refinery29

"The Hunger is being described as 'the Donner Party with a supernatural twist,' and it sure delivers on the spooky premise." —Bustle

"[The Hunger] is as rich in history as it is disturbing." —Vulture

"Katsu retells the haunting story of the Donner Party—shining a light on the darkest parts of human nature while incorporating a chilling supernatural element." —AARP

"Much like Dan Simmons's The Terror, Alma Katsu's accomplished, engrossing novel weaves a cocoon of supernatural horror around historical tragedy....The atmosphere of doom becomes as thick as the snow that eventually halts the pioneers' progress. It's a beautifully intense read." —The Financial Times (UK)

"The Hunger by Alma Katsu takes the tragic tale of the Donner Party and infuses it with hints of witchcraft, vampirism, lycanthropy, cannibalism and zombiism in a tale that is fated to become the latest Donner Party-inspired horror movie." —True West Magazine

"Katsu grips and tormets readers with an eerie, well-researched facsimile of 19th-century America, vivid imagery of the harsh pioneering life, and the gnawing suggestion that malevolence, and not merely bad luck, may have shaped the Donner Party's fate." —Matador Network 

"In the case of The Hunger, inspired by the travails of the Donner Party, Alma Katsu blends evocative images of the American West with unnerving scenes of the supernatural, making for a uniquely gripping read." —InsideHook

"Katsu injects the supernatural into this brilliant retelling of the ill-fated Donner Party....Fans of Dan Simmons's The Terror will find familiar and welcome chills." —Publishers Weekly (starred review)

"For fans of historical fiction and the supernatural, Katsu's goosebumpy and spooky plot makes for an original and surprising read." —Library Journal (starred review)

"A suspenseful and imaginative take on a famous tragedy." —Booklist

"An inventive reimagining...Westward migration, murder, sensation: the story of the Donner Party has all this....Katsu creates a riveting drama of power struggles and shifting alliances....The tensions [she] creates are thrilling." —Kirkus Reviews

"Grips readers from the opening paragraphs and doesn't let go. Full of richly drawn and fascinatingly flawed characters, this is a story that is respectful of the history it relates, but doesn't shy away from the sins, mistakes and bigotry of the past, to impressive effect." —RT Book Reviews

"The isolation is anxiety-inducing and the tension is perfect....Well-written and gripping with a strong conclusion, The Hunger is an inventive take on an already morbidly fascinating historical event. Recommended." —Historical Novel Society

"Escalating terror and excitement, leading to an ending that's beyond unsettling... Katsu does a remarkable job of transforming a true story into a hard-to-put-down work of fiction.... Unique, literary and entertaining." —The Oklahoman
 
"Take the already gruesome Donner Party story, add a wagonload of frightening supernatural elements, and you have the ingredients that animate this chilling novel….A compulsively addictive retooling of historical fact." —Brandeis Magazine

"An unsettling and slow-burning tale that combines history and the supernatural that sure to please anyone with interest in either." —SF Reader

"It's a testament to Katsu's skill as a writer that she creates characters so compelling that we can't help hoping they will escape the fate we knew was hurtling toward them the moment we opened the book. She ends the novel with an image of sacrifice and an image of reconciliation, each of them powerful and affecting. They give the book a melancholy resonance. It's a fine novel." —Locus Magazine

"Author Alma Katsu is one of the genre's new stars, and her reimagining of the Donner Party tragedy is one reason why." —Mental Floss

"Katsu dangles the grisliest elements of the story just out of reach. . . . For those who appreciate authenticity and great character work, it's a piece of historical horror that takes exactly the route it should." –Esquire

"Alma Katsu has taken one of the darkest and most chilling episodes in our history, and made the story even darker, even more terrifying. I swear I'm still shuddering. A fantastic read!" —R.L. Stine, author of the Goosebumps and Fear Street series

"Like The Revenant but with an insistent supernatural whisper. The setting and the story are utterly chilling. And the telling of it is so well done." —Sarah Pinborough, author of Behind Her Eyes

"The Hunger is a terrific historical novel with a thrilling, bloody twist. Alma Katsu's brilliant reimagining of the Donner party's fate is rich with character, laden with imminent doom, and propelled by chilling mystery. A novel that book clubs and dark fiction fans should devour with equal relish." —Christopher Golden, author of Ararat and Snowblind

"If you think the story of the Donner Party can't get more horrific, think again.  In this gripping, atmospheric reimagining of that dark tale, Katsu has created a deeply unsettling and truly terrifying masterpiece." —Jennifer McMahon, author of Burntown and The Winter People
 
"An uneasy, nauseous, slow-burning tale that marries historical fiction with a hint of the supernatural. Great detailing; colorful characterization; some supremely ominous stuff, but always reined in at the final moment to rack up the tension even more. Loved it!" —Joanne Harris, author of Different Class and Chocolat
 
"The Hunger is a bold and brilliant novel, heavy with foreboding and dread, and with a rich vein of humanity at its core. I challenge you to read it without experiencing your own hunger pangs." —Tim Lebbon, author of Relics and The Silence

"In an audacious twist, Alma Katsu has made something new and suspenseful from the legendary story of the Donner Party. The Hunger is filled with terror, pity, and grue." —Keith Donohue, author of The Boy Who Drew Monsters and The Stolen Child