COVID-19
We miss having customers in the store! However, we want our customers and staff to stay healthy and safe so are still in the process of opening safely.
While we work to open up, we're also here to meet your bookish needs! To buy new books, order through this website. If you're looking for used or rare books, browse our collection on Biblio. You can also give us a call to place an order or to check on the availability of a title.
We are unable to consider used book offers until after we re-open to the public.
The Pie and Pastry Bible (Hardcover)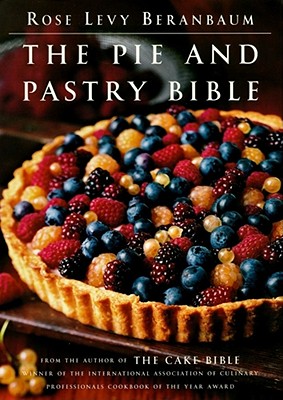 Description
---
The Pie and Pastry Bible is your magic wand for baking the pies, tarts, and pastries of your dreams—the definitive work by the country's top baker.

-More than 300 recipes, 200 drawings of techniques and equipment, and 70 color pictures of finished pies, tarts, and pastries

-Easy-to-follow recipes for fruit pies, chiffon pies, custard pies, ice-cream pies, meringue pies, chocolate pies, tarts and tartlets, turnovers, dumplings, biscuits, scones, crostadas, galettes, strudel, fillo, puff pastry, croissants (chocolate, too), Danish, brioche, sticky buns, cream puffs, and profiteroles

-All kinds of fillings, glazes, toppings, and sauces, including pastry cream, frangipane, Chiboust, fruit curds, ice creams, fondant, fruit preserves, streusel, meringues, ganache, caramel, and hot fudge

-A separate chapter featuring foolproof flaky, tender, and original crusts of every kind imaginable. Here are a few: Flaky Cream Cheese Pie Crust, Flaky Cheddar Cheese Pie Crust, Miracle Flaky Lard Pie Crust, and Flaky Goose Fat Pie Crust; Bittersweet Chocolate, Coconut, Ginger, and Sweet Nut Cookie Crusts; and Vanilla, Gingersnap, Chocolate, and Graham Cracker Crumb Crusts

-Countless tips that solve any problem, including the secrets to making a juicy fruit pie with a crisp bottom crust and a lemon meringue pie that doesn't weep

-How to make a tender and flaky pie crust in under three minutes

-How to make the best brownie ever into a crustless tart with puddles of ganache

-Exciting savory recipes, including meat loaf wrapped in a flaky Cheddar cheese crust and a roasted poblano quiche

-Extensive decorating techniques for the beginning baker and professional alike that show you how to make chocolate curls, pipe rosettes, crystallize flowers and leaves, and more

-Detailed information on ingredients and equipment, previously available only to professionals

-The wedding cake reconceived as a Seven-Tier Chocolate Peanut Butter Mousse Tart

-Pointers for Success follow the recipes, guaranteeing perfect results every time
About the Author
---
Rose Levy Bernabaum, a frequent contributor to all the major food magazines and The New York Times, is a consultant to the baking and chocolate industries. Her definitive work on cakes, The Cake Bible, won the Cookbook of the Year Award from the International Association of Culinary Professionals. Rose's research for The Pie and Pastry Bible included a strudel pilgrimage to Austria, a fact-finding Danish mission to Denmark, and travel and study throughout France, Switzerland, Hungary, and Germany. She lives in New York City.