My Bridges of Hope (Mass Market)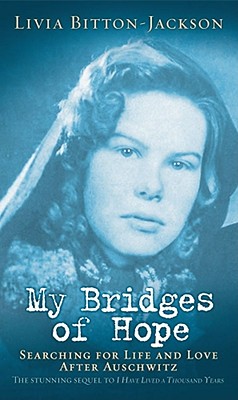 $8.99
Email or call for price
Description
---
After liberation from Auschwitz, fourteen-year-old Elli, her brother, and their mother attempt to rebuild their lives in Czechoslovakia. But it doesn't take long for Elli to realize that even though the war is over, anti-Semitism is not, so she and her family decide to escape to America along with thousands of other Jews. Little do they know what agonies and adventures await them still.
Elli's memoir of her experiences after Auschwitz will captivate readers as they follow her through heartache, frustration, adventure, excitement, love, and ultimately, triumph.
About the Author
---
Livia Bitton-Jackson, born Elli L. Friedmann in Czechoslovakia, was thirteen when she, her mother, and her brother were taken to Auschwitz. They were liberated in 1945 and came to the United States on a refugee boat in 1951. She received a PhD in Hebrew culture and Jewish history from New York University. Dr. Bitton-Jackson has been a professor of history at City University of New York for thirty-seven years. Her previous books include Elli: Coming of Age in the Holocaust, which received the Christopher Award, the Eleanor Roosevelt Humanitarian Award, and the Jewish Heritage Award. Dr. Bitton-Jackson lives in Israel with her husband, children, and grandchildren.